Economy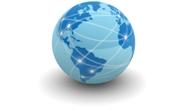 Global Manufacturing Steady in September
Written by Sandy Williams
October 3, 2017
---
Global manufacturing stayed steady at a strong reading of 53.2 in September. The J.P. Morgan Global Manufacturing PMI was unchanged from the August reading with consumer, intermediate and investment goods all signaling expansion.
Production rose, driven by new orders and international trade volumes and bumping up employment for the month. Higher input costs pushed selling prices up at their steepest rate since May 2011.
"The global manufacturing sector continued to expand at a solid and stable clip in September as output growth ticked higher and new orders continued to rise at one of the best rates over the past three years," said David Hensley, director of Global Economic Coordination at J.P. Morgan. "The sector looks to have sufficient momentum to see growth continue through to year-end, even in the face of a recent revival in cost inflationary pressures."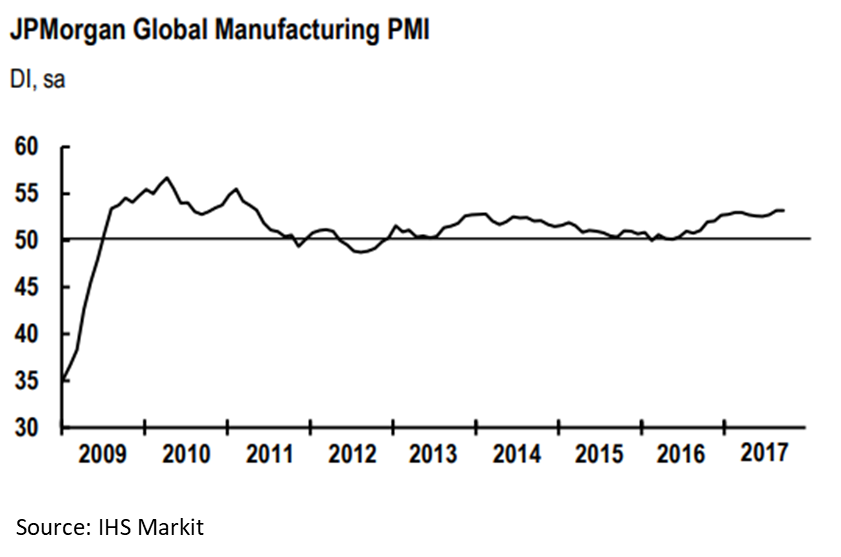 Eurozone manufacturing jumped in September, strengthening to a 79-month high of 58.1. Growth was broad-based across the region with Germany leading the Eurozone with a PMI of 60.6, followed by the Netherlands at 60.0.
Commenting on the final manufacturing PMI data, Chris Williamson, chief business economist at IHS Markit said: "Surging order book growth has encouraged manufacturers to take on extra staff at a rate never previously seen in the 20-year history of the PMI survey. Despite this expansion of capacity, backlogs of incomplete work built up at a faster rate, suggesting that the hiring upturn has plenty more room to run. Optimism about the outlook has also improved, highlighting the increasingly positive mood among euro area producers. The stronger euro has so far barely dented export (including intra-eurozone trade) growth and domestic demand conditions were generally seen to have improved."
Only marginal improvement was noted in China as production and new orders weakened in September. The Caixin China General Manufacturing PMI inched down to 51.0 from 51.6 in August, but remained above the 50.0 neutral mark. Demand was weaker domestically and abroad and led to more job-shedding as companies downsized. Input costs and output prices rose sharply during the month as raw material costs increased. Manufacturers were slightly less optimistic than in August about business conditions next year.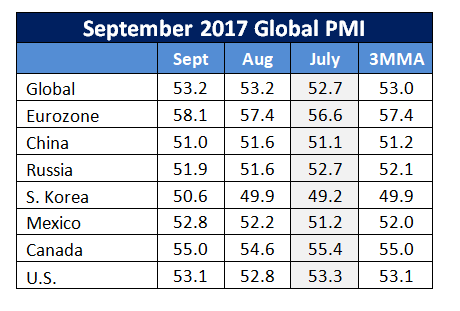 Manufacturing in Russia gained momentum in the third quarter, inching up to a PMI reading of 51.9 from 51.6 the previous month. New orders continued to grow domestically and, for the first time since August 2013, new export orders increased, although only slightly. Input prices were higher due to higher raw material costs and supplier shortages. As a result, output charges increased at the fastest pace so far this year.
South Korea saw a decline in export orders, particularly from China, during September. Prices rose sharply and business confidence was at its weakest since November 2016. After 13 months of decline, production rose on increased domestic demand. The Nikkei South Korea Manufacturing PMI pulled from contraction in August to register 50.6 in September.
In North America, the PMI in Mexico jumped from 52.2 to 52.8 in September for its strongest improvement in nearly 18 months. New orders increased domestically and abroad, scaling up output for the fifth month. Overall, the third quarter was robust for manufacturers in Mexico.
Canada manufacturing output and new orders increased on domestic demand in September. New export orders rose only marginally, partly from weak demand from U.S. clients. Employment growth was solid, but softer than August. Rising raw material prices and U.S. supply disruptions pushed input costs to their highest level in four months. The IHS Markit Canada PMI posted at 55.0 in September, up from 54.6 in August.
"Supply chain disruptions emanating from the U.S. were a prominent feature throughout the manufacturing sector in September," said Christian Buhagiar, president and CEO, SCMA. "Delivery times for manufacturing inputs lengthened to the largest extent for over six years, partly reflecting transportation delays and stretched supply following Hurricane Harvey. This had a knock-on effect in terms of raw material prices, with manufacturing cost inflation accelerating sharply since August."
Production rose modestly in the United States, but new order growth slowed its pace of expansion in September. The IHS Markit U.S. PMI posted 53.1 in September after a reading of 52.8 in August. Raw material prices – notably for metals – were driven up after the recent hurricanes. Lead times lengthened to the greatest extent since February 2015, said IHS.
"While the headline PMI remained resiliently elevated in September, despite disruption from hurricanes Harvey and Irma, the details of the survey are more worrying," commented Chris Williamson, chief business economist at IHS Markit. "Output growth was unchanged on August's 14-month low, and translates into stagnation at best in terms of the official manufacturing output data. Firms' expectations of future output growth also slipped to a four-month low."
"There was better news on the hiring front, with job creation perking up to a nine-month high. However, with employment rising faster than output, productivity may be slipping. Although the hurricanes appear to have made little overall impact on production, supply delays were widely reported and prices for many inputs rose, suggesting some near-term upward pressure on inflation."

Latest in Economy