Steel Mills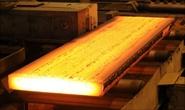 Updated Steel Mill Maintenance in Fourth Quarter
Written by John Packard
October 5, 2017
---
In an effort to keep our readers as up to date as possible, we are adding some information to the steel mill maintenance schedule that we originally produced last week. The table did not change, but we did receive information from ArcelorMittal that we wanted to pass along.
We received the following details regarding maintenance from their spokesperson:
ArcelorMittal Burns Harbor:
ArcelorMittal Burns Harbor just completed a two-week maintenance outage on Blast Furnace C. The furnace came back on line over the weekend and is performing well.
A planned maintenance outage at ArcelorMittal Burns Harbor's No. 1 continuous caster is under way and will be complete in October.
These maintenance outages have been planned for some time and, therefore, we anticipate no impact on our ability to meet customer demand.
AM/NS Calvert:
AM/NS Calvert is preparing for planned maintenance outages in the hot strip mill, cold roll mill, and coating lines in Q4 2017. These planned maintenance outages and related investments, which we expect to be complete in mid-December, will enable us to achieve higher reliability of our assets, as well as to produce a wider array of high quality, value-added steels that are also necessary to our portfolio's expansion and success.
The hot strip mill will undergo a nearly two-week planned maintenance outage on the reheating furnaces, sizing press and the crop shear starting Oct. 26.
The cold roll mill will conduct an annual one-week outage for planned maintenance and upgrades starting Oct. 30.
On Nov. 6, Calvert will start the annual outage season for our hot dip galvanizing operations related to key projects in our continuous annealing lines (CAL 2) furnace and the commissioning of an upgraded aluminized pot for Line 4. 
The management team at AM/NS Calvert is working closely with employees and contractors to ensure all work is performed safely and successfully.
Our commercial team has been in close communications with customers, and we anticipate no impact on our ability to serve those customers.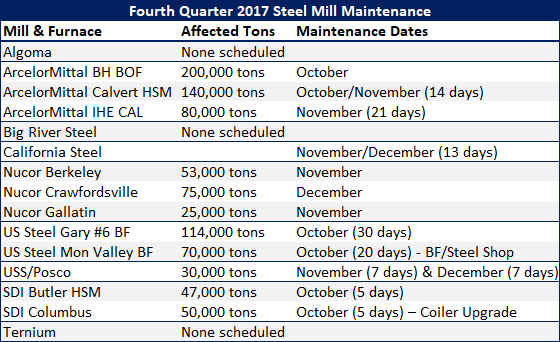 Steel Market Update wants to thank ArcelorMittal USA for working with us as we attempt to reduce rumors and provide the highest quality information to our readers as possible.
If your mill is planning an outage for maintenance (other than normal weekly or monthly planned maintenance) or is upgrading your equipment, Steel Market Update would like to know: info@SteelMarketUpdate.com

Latest in Steel Mills