Economy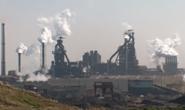 Slag to Sculpture: Historical Reminder of Pittsburgh Steel Industry
Written by Sandy Williams
November 10, 2017
---
Have you ever seen the metal mushrooms that seem to be growing on Route 51 near Century III Mall in West Mifflin, Pa.? They are actually remnants of the Pittsburgh steel industry that dominated the industrial landscape in decades past.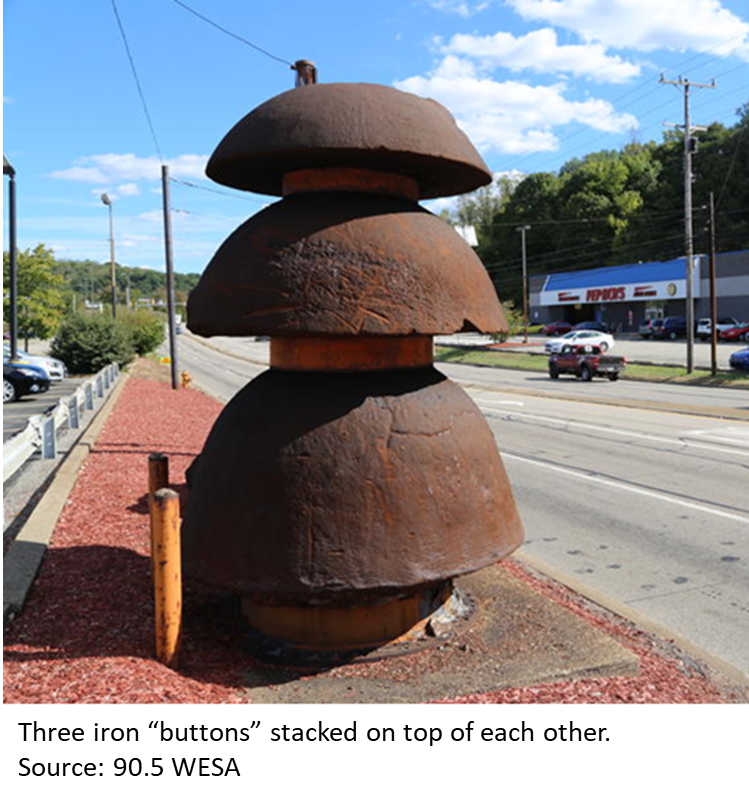 West Mifflin is the site of Brown's Dump, a 410-acre slag dumping area used by the Pittsburgh steel mills for over 50 years. Beginning in 1913, trains carrying molten slag dumped the waste product of the steel making process on a site near the old Duquesne, Edgar Thompson and Homestead Steel works. The molten slag would flow from the train cars like glowing lava. Day and night for years, the trains could be seen traversing an ever-growing hill, emptying their cargoes of slag. Over time, the hill rose over 200 feet and covered an area equivalent to 130 city blocks, creating the largest man-made mountain in Pennsylvania.
Brown's Dump soon became a destination for Pittsburgh residents and tourists. Cars would line Lebanon Church Road and Clairton Boulevard for more than a mile to witness the fiery glory of the molten slag. It became a favorite family night out and a date-night attraction.
"You ask anyone who grew up in this area, going out to West Mifflin to watch them dumping slag was the thing you did," said Ron Baraff, director of historic resources and facilities with Rivers of Steel National Heritage Area. "You did it with your family, you did it when you were on a date, it was just kind of that place to hang out and see this action."
"It was pretty exciting stuff," Baraff told 90.5 WESA, Pittsburgh's NPR news station.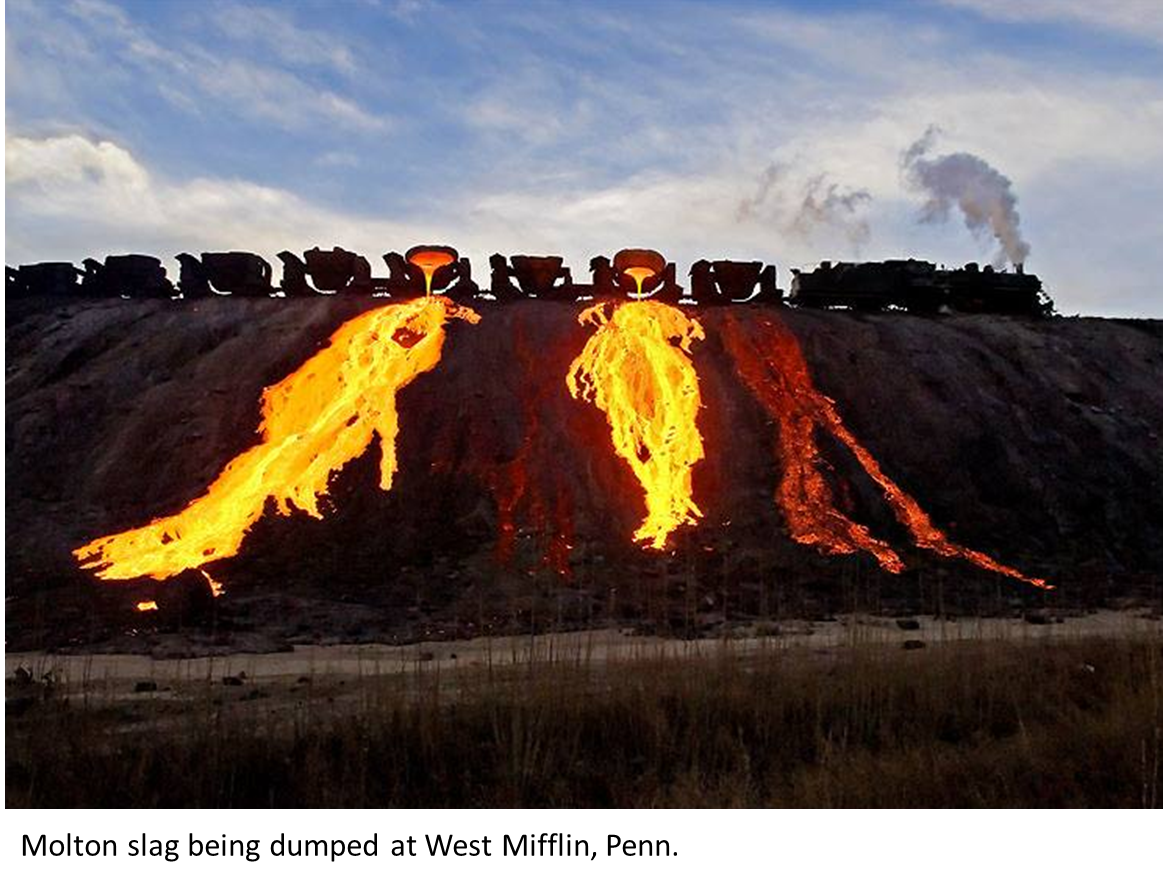 The Brookline Connection, a website documenting the history in the Pittsburgh area near the community of Brookline, offered some memories from residents:
My aunt and uncle lived behind the dump in Pleasant Hills. As kids growing up we would always wait to see the slag being dumped from their backyard. It was truly magical." – Darcee B.
"Every Wednesday our family got into the car and drove out Route 51 to the pizza shop, then drove to OUR spot to watch them dump the slag. My dad even bought a convertible so we could all see!" – Joanne J.
"Yeah, it looked like lava flowing down a mountain. Boy, those were the days. It was awesome." – Dave M.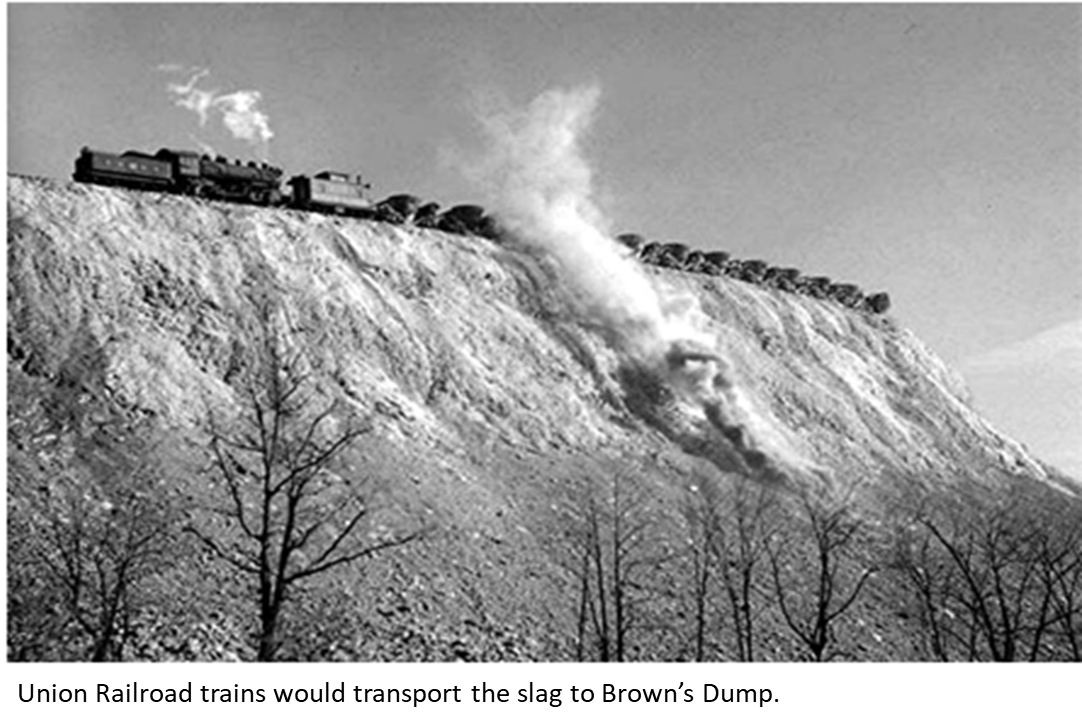 "I walked on top and there were many football size vats of slag that could be walked on. The orange crust was similar to the way ice can break. Underneath however was different, it was gooey." – Joseph C.
"I went out to the Redwoods or Yosemite after I graduated High School and saw something that they made a big deal of called a 'fire fall.' I remember thinking it was a tiny, poor imitation of our slag dump." – Carol W.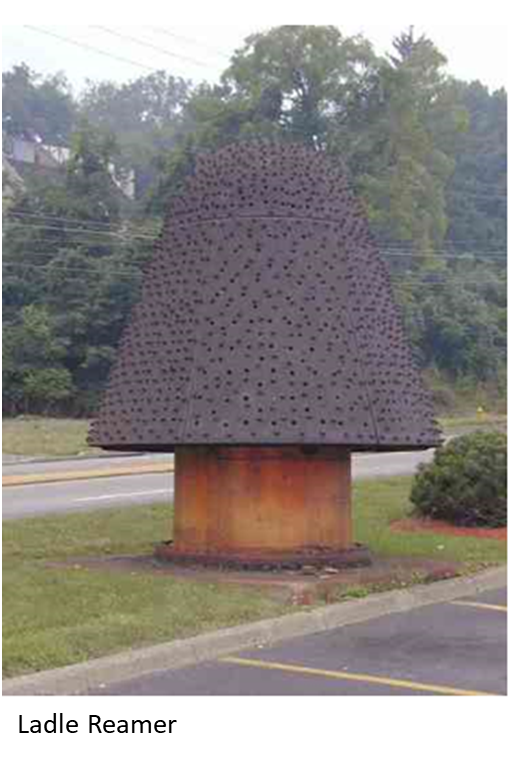 The intriguing metal sculptures were the brainchild of U.S. Steel industrial designer Antoli Rychalski. The mushrooms are constructed of slag pots, the reamers used to clean out pots, and the hardened "buttons" of metal slag from inside.
"He worked hard to apply an aesthetic to an industry that doesn't really rely upon aesthetics," said Baraff. "He said to them, 'Look, these are not waste, they're not scrap, they're mementos of history that should be saved and used as memorials.'"
The structures were erected in the 1970s when area residents still recognized them as by-products of the still vibrant steel industry. The dumping ended in the late 1960s when other uses were found for slag and Brown's Dump. Today, the sculptures are reminders of an industry that once was the economic backbone of the Pittsburgh region.
There are no informational plaques to provide clues about the metal mushrooms. For many it's a mystery. "Most people have no idea what any of that is," said Baraff, "and they drive past it all the time."

Latest in Economy