Economy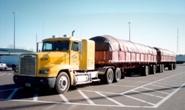 Trade Groups: 'Keep on Truckin' in NAFTA
Written by Tim Triplett
November 15, 2017
---
More than 100 trade organizations representing a cross-section of U.S. business and industry sent a letter to USTR Robert Lighthizer on Tuesday urging the U.S. to maintain, and even extend, trucking provisions in the new NAFTA agreement. The trade groups called for the U.S. to permit Mexican carriers to haul freight further into the United States.
"We strongly urge you not to eliminate NAFTA's trucking provisions in an updated agreement. We depend on the trucking industry, both American and Mexican, to safely and efficiently haul our products in both countries. Eliminating NAFTA trucking, including any investment protections, would have a long-term negative impact on our businesses," the group wrote.
With a few exceptions, Mexican carriers are restricted to a commercial zone that extends only about 20 miles north of the border. "We depend on efficient border crossings to remain competitive. Increasing trade in both directions is putting more and more pressure on our southern border land ports. Permitting Mexican carriers to haul freight beyond the border zones will help alleviate some of the congestion at the border, creating more efficiency through the system. By having these trucks drive further into border states, it will alleviate truck traffic out of the commercial border zones," the letter states.
Mexican carriers and drivers are not permitted to haul domestic U.S. freight, so they do not compete with U.S. carriers and drivers, the group pointed out. "The Mexican trucking program is not an open-door policy that permits any and all Mexican trucking companies to haul freight beyond the border zones. Mexican carriers undergo a case-by-case review process before the U.S Department of Transportation grants them authority to operate. These carriers must adhere to all U.S. laws and regulations. And, most importantly, Mexican carriers operating beyond the commercial border zones have an excellent safety record. We urge you to keep NAFTA's trucking provisions in a NAFTA 2.0," the letter states.
Cross-border trucking rules are apparently a sticking point in the NAFTA negotiations. In the fourth round of the NAFTA talks, the U.S. sought a provision that would allow it to restrict Mexican truck access at a later date without being in violation of NAFTA, World Trade Online reports.
The American Trucking Associations and the Canadian Trucking Alliance were not among the signers to the letter. The U.S. Chamber of Commerce and the Institute of Scrap Recycling Industries were among the signatories. 

Latest in Economy