Steel Markets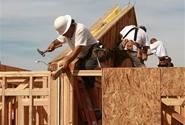 Housing Starts Surge in October
Written by Sandy Williams
November 17, 2017
---
Housing starts leapt 13.7 percent from September to October, rising to a seasonally adjusted rate of 1.290 million and beating economists' estimates. Single-family housing starts increased 5.3 percent, while housing of five units or more jumped 37.4 percent, reported the Commerce Department.
Data shows the South rebuilding after the devastation of the dual hurricanes earlier this year. After declining in September, starts jumped 17.2 percent in the region and permit authorizations 3 percent.
The Northeast posted a 42.2 percent gain in housing starts, mostly due to multi-family construction. Starts in the Midwest rose 18.4 percent, but declined 3.7 percent in the West.
Permit authorizations jumped 5.9 percent from September to a seasonally adjusted annual rate of 1,297,000. Single-family authorizations increased 1.9 percent month-over-month to a rate of 839,000. Authorizations of units in buildings with five units or more jumped 13.4 percent to a rate of 416,000 in October. Seasonal declines were seen in the Northeast and Midwest, while the permit authorizations rose 13 percent in the West.
October's housing report coincides with a surge in builder confidence for newly-built single-family homes. The National Association of Home Builders/Wells Fargo Housing Market Index (HMI) in November rose to its highest level since March and the second highest since July 2005.
"Demand for housing is increasing at a consistent pace, driven by job and economic growth, rising homeownership rates and limited housing inventory," said NAHB Chief Economist Robert Dietz. "With these economic fundamentals in place, we should see continued upward movement of the single-family housing market as we close out 2017."

Latest in Steel Markets