Steel Products Prices North America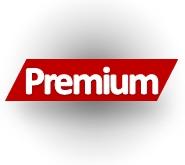 Raw Material Prices: Iron Ore, Scrap, Coking Coal, Zinc
Written by Peter Wright
November 29, 2017
---
Raw material markets have been tranquil since our October update, but the value of the U.S. dollar is once again in decline.
In this report, we examine the latest prices for iron ore, scrap, coking coal and zinc.
To put the raw materials analysis into perspective, we begin with Figure 1, which shows the spread between Chicago #1 busheling and hot rolled coil ex works Indiana through Nov. 17 both in dollars per net ton. On this date, Chicago busheling was priced at $301.34/net ton ($337.5/gross ton) and HRC ex works Indiana was $617.75/net ton for a spread of $316.41/net ton. The spread reached a recent high of $385.46 in June last year.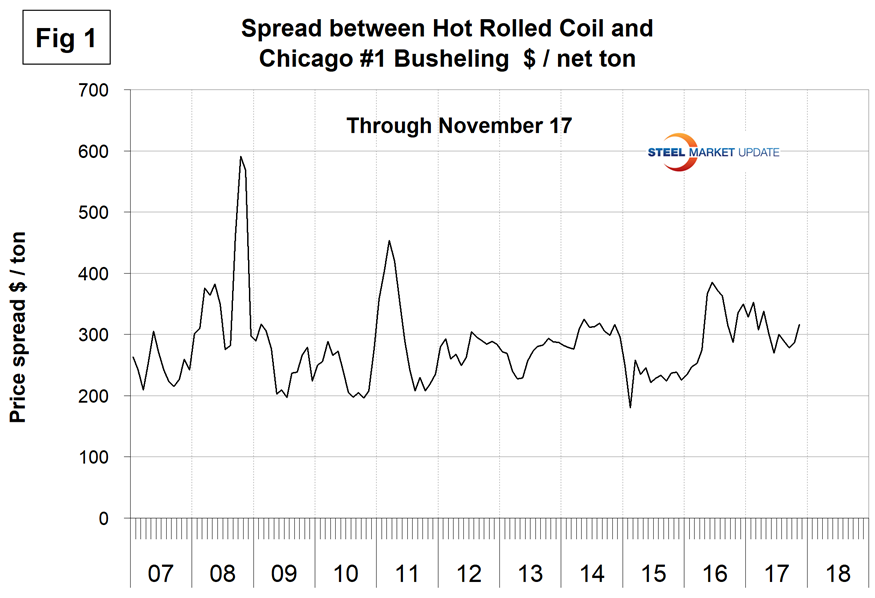 Scrap
Figure 2 shows the relationship between shredded and #1 busheling both priced in Chicago. In November, shredded was unchanged at $275/gross ton and busheling declined from $342.50 to $337.50. The busheling premium was $62.50, down from $67.50 in October.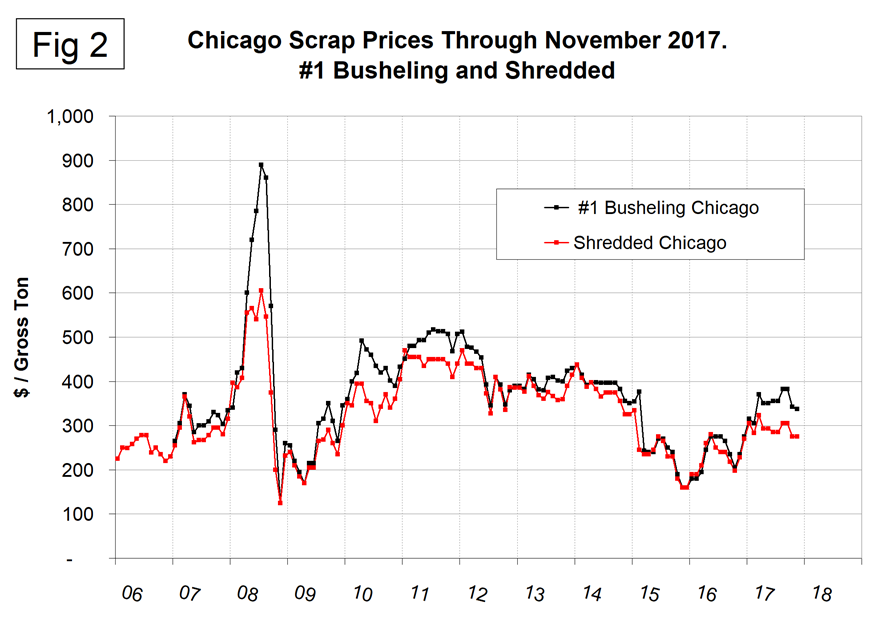 Iron Ore
Figure 3 shows the Platts IODEX of 62 percent Fe delivered North China since January 2009. The Index recovered to $92.30 on March 17, but has since declined to $64.00 on Nov. 20.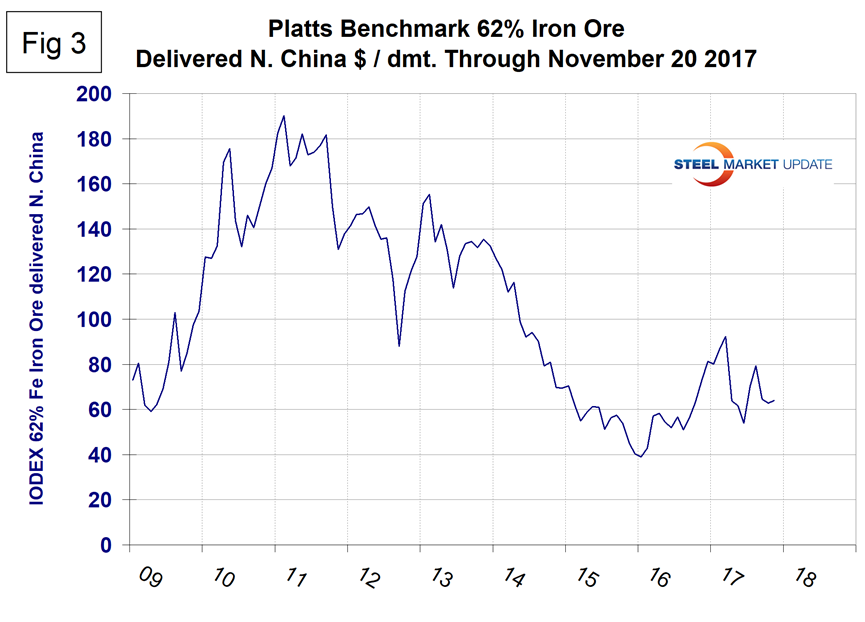 There is a long-term relationship between the prices of iron ore and scrap. Figure 4 shows the IODEX, and the price of Chicago shredded through Nov. 20. The correlation since January 2006 has been 84.09 percent, and in the last 10 years on average scrap in dollars/gross ton has been 3.4 x as expensive as ore in dollars/dmt. The ratio has been erratic since mid-2014, but overall since then has benefited the integrated producers.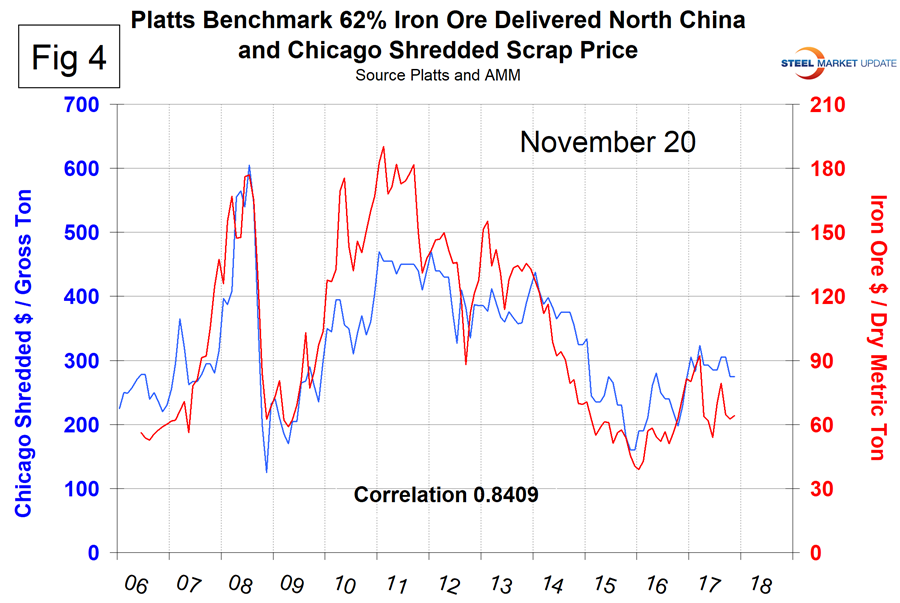 There was a six-month respite for the EAF operators in Q4 '16 and Q1 '17, but now the ratio is once again high with a value of 4.30 on Nov. 20. The June ratio of 5.28 was the highest in over 10 years (Figure 5). Since Chinese steel manufacture is 93 percent BOF, this ratio has allowed them to be more competitive on the global steel trade market. In addition, in the last four years there have been times when China could supply semi-finished to the global market at prices competitive with scrap.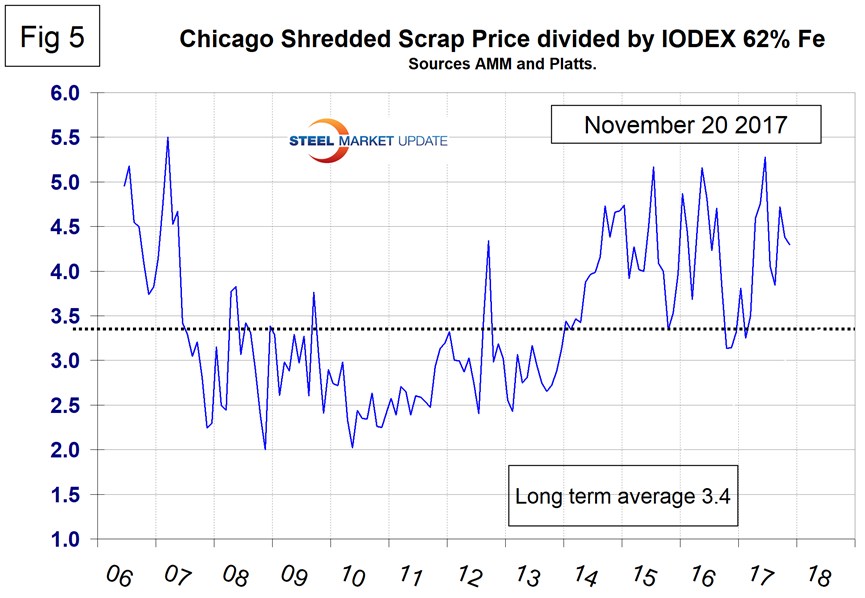 Coking Coal
On Nov. 20, Platts reported that premium low volatile coking coal was up $5.00/metric ton on the week to $193 FOB Australia (Figure 6). The Asian metallurgical coal market was quiet in the middle of November as steel production cuts begin in Tangshan. Most Chinese buyers sought price direction before committing.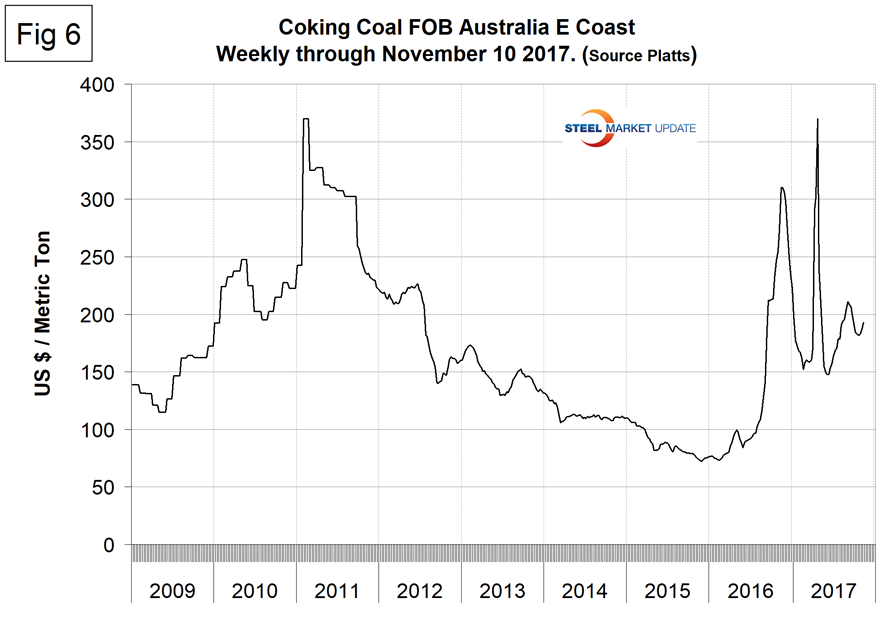 Zinc
The major use of zinc is for galvanizing; other significant uses include the alloying of brass and bronze and in zinc-based alloys used in the die-casting industry. Kitco publishes a daily spot price of zinc, which we have transcribed to Figure 7. Just as a point of reference, we have included aluminum in the same graph. The price of zinc declined slightly $1.4452/lb. on Nov. 28.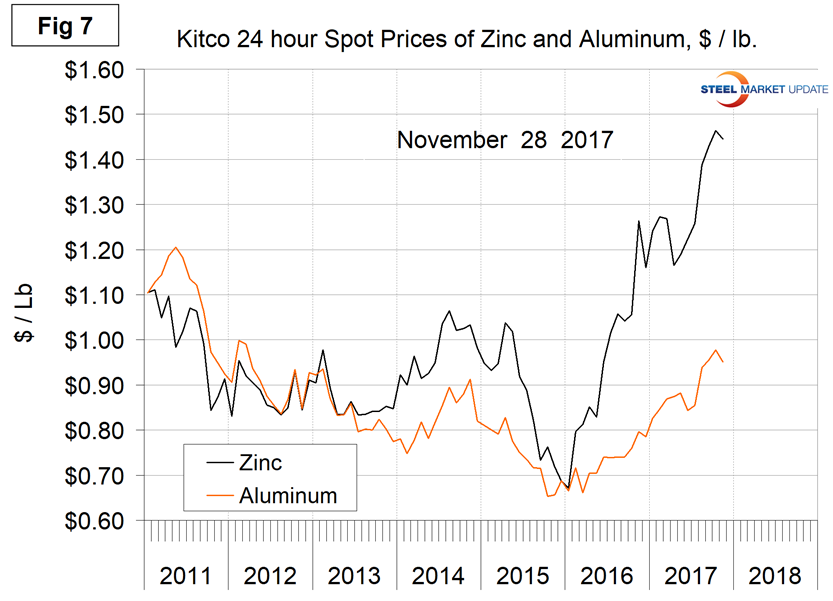 SMU Comment: There is an inverse relationship between commodity prices and the value of the U.S. dollar on the global currency markets. As we reported in our November currency update, the value of the dollar declined by 9.3 percent between Jan. 3 and Sept. 8 this year, but then turned around and appreciated by 2.9 percent between Sept. 8 and Oct. 27 when the decline set in again (Figure 8). A weakening dollar puts upward pressure on the price of those global commodities that are priced in dollars.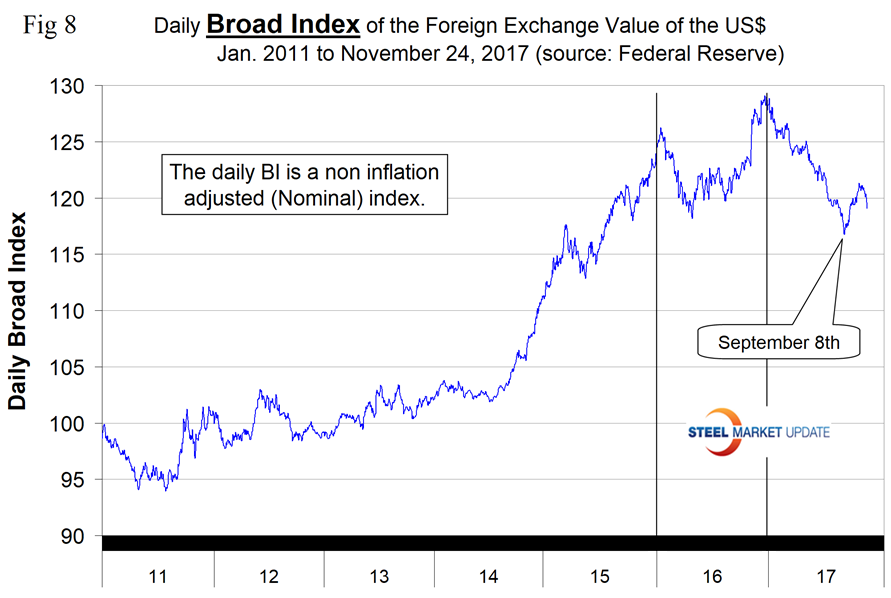 Latest in Steel Products Prices North America