Steel Markets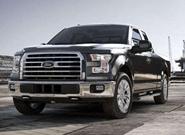 Auto Sales Stronger Than Expected in November
Written by Sandy Williams
December 1, 2017
---
A strong U.S. economy is helping to boost auto sales along with incentives offered by dealers to move 2017 models off dealer lots. Approximately 1.383 million U.S. light-vehicles were sold in November, according to WardsAuto, after providing an estimate for delayed Nissan sales results. That puts the seasonally adjusted annual rate at 17.3 million units, below the 17.65 million posted in November 2016 and October's high of 18 million, but still trending above the 17 million mark.
"The sales surge that started in September due to replacement of hurricane-damaged vehicles, along with incentive activity to reduce excess inventory, has come to an end," writes WardsAuto. "November and December likely will follow the 17 million SAAR average of the preceding months."
Kelley Blue Book reported that average pricing for new vehicles has increased 1.6 percent from November 2016, and 0.2 percent from October. Average price in November was $35,870.
"Transaction prices reached a new record high in November 2017," said Tim Fleming, analyst for Kelley Blue Book. "Prices are being driven higher by the shifting sales mix away from cars, which now stands at just 34 percent and is trending downward. Kelley Blue Book continues to see much of the consumer demand geared toward small SUVs, which saw prices rise by 3 percent, in addition to strong sales growth. This segment features many recent redesigns, and shows no signs of weakness despite the overall down market for new vehicles."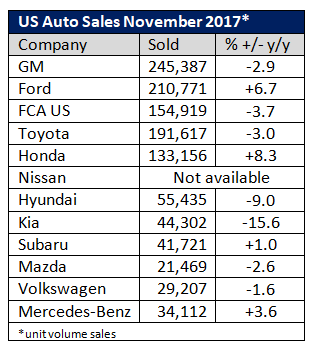 The National Automobile Dealers Association projected on Friday that 2018 sales will be more subdued next year, totaling 16.7 million vehicles. Autotrader.com put the 2018 total even lower at 16.6 million units.
"We definitely think sales will be down some for next year," said Autotrader.com analyst Michelle Krebs.
Barclays analyst Brian Johnson told USA Today that the industry is facing "an eroding plateau" that will settle in a "normalized" range of 15.5 million to 16 million vehicles per year.  

Latest in Steel Markets