Steel Products Prices North America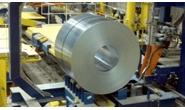 Galvanized Coating Extras for 2018 Coming into Focus
Written by John Packard
December 7, 2017
---
With the exception of U.S. Steel, all of the domestic steel mills have announced new coating extras for galvanized steel. The coating extras, which were last changed in April/May 2017 (announcements went out in February/March 2017), are rising due to the higher costs associated with zinc, which is the main ingredient used when making galvanized steel. On Dec. 1, 2017, zinc was trading on the LME at $1.48 per pound. Since the middle of September 2017, zinc has been trading between $1.40 and $1.50 per pound.
Steel buyers should be aware of the differences in coating extras as they are not necessarily the same from mill to mill. As mentioned above, the U.S. Steel extras on the website were effective as of April 1, 2017. On a 24-gauge (.0236 min) G90 coil, USS extra is $9.55/cwt versus $10.75/cwt at Nucor and $11.55/cwt at AK Steel.
When we get to .015 min G90, the spread between the mills widens from a low of $14.70/cwt at California Steel (USS = $14.60/cwt) with many of the mills quoting $16.25/cwt (UPI quoting $16.80/cwt).
Steel Market Update is revising the extra we are using for our benchmark .060" G90 from $78 per ton ($3.90/cwt) to $86 per ton ($4.30/cwt). That went into effect earlier this week and is incorporated into this week's index average.
SMU Note: SDI extras were shown incorrectly in Tuesday evenings issue. That has been corrected on our website and in the article also in our website. The SDI extras shown below are correct.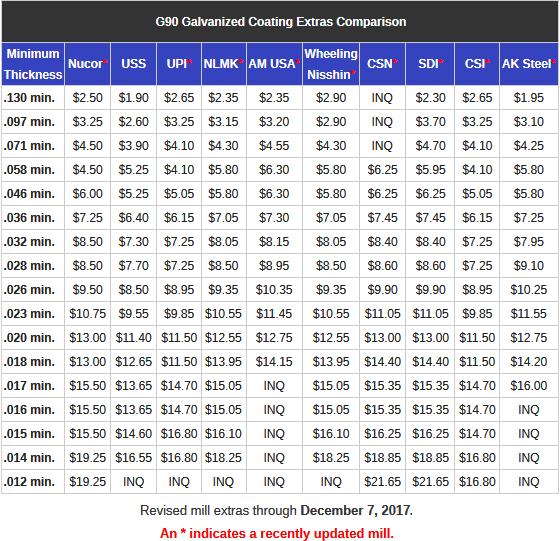 Latest in Steel Products Prices North America