Economy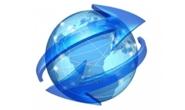 Global PMI Ends 2017 Near 7-Year High
Written by Sandy Williams
January 3, 2018
---
The J.P. Morgan Global Manufacturing PMI ended 2017 near a seven-year high as economies improved and new orders and output expanded. The PMI, produced by J.P. Morgan and IHS Markit, rose to 54.5 in December from 54.1 in November, expanding for the 22nd month.
Intermediate goods saw the greatest rate of growth in December followed by investment goods, each at 82-month highs. Consumer goods growth was at a four-month high. Developed nations outpaced emerging markets with the Eurozone outperforming other regions. PMI expanded for most nations, although IHS Markit noted slower growth in the United Kingdom.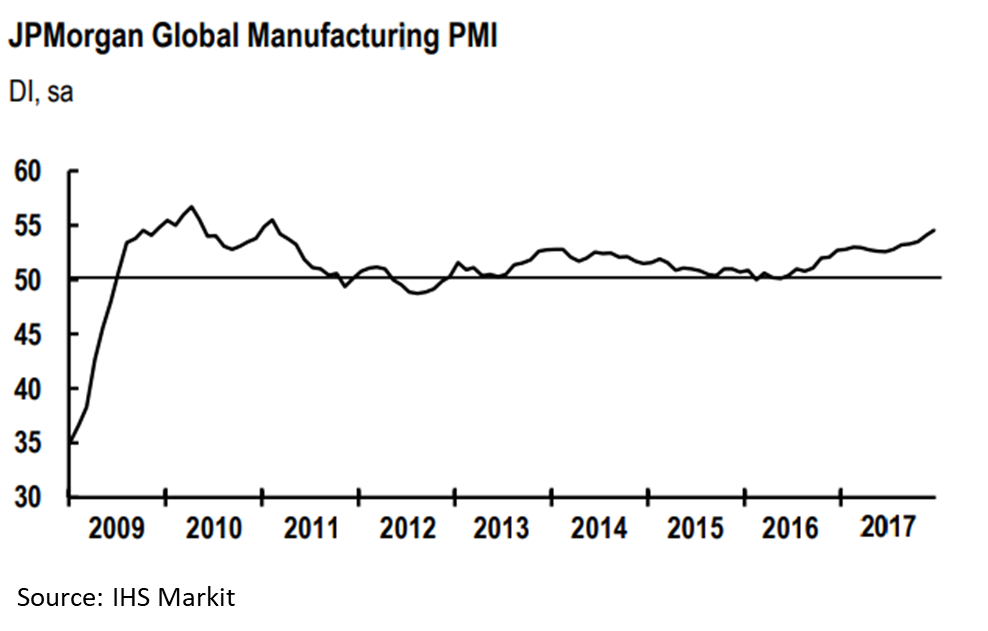 Manufacturing responded to higher demand with increased production to meet new export and domestic orders. As capacity pressure increased, so did employment levels for the fastest job creation since March 2011. Upward inflationary pressure eased for both input costs and output charges.
"The performance of the global manufacturing sector continued to strengthen at the end of the year, with growth of output, new orders and employment reaching levels last achieved in early-2011," commented David Hensley, Director of Global Economic Coordination at J.P. Morgan. "Improved inflows of new business, rising backlogs of work and improved business optimism all point to this robust upswing in output growth being carried over into 2018."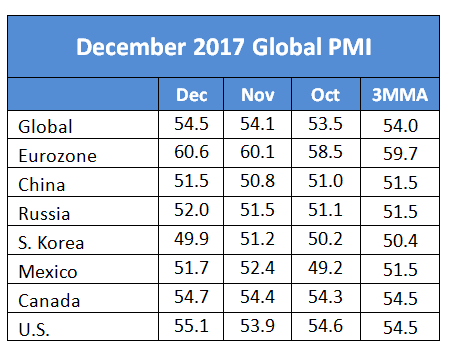 Eurozone
Manufacturing expanded in all nations in the Eurozone during December, led by Austria, Germany and the Netherlands. The PMI of 60.6 was the best reading since mid-1997 and up 0.5 points from November. Investment goods led the expansion with a record high. France expanded at the fastest pace in 17 years.
Output and new orders were buoyed by domestic demand and strong growth of new export business. Employment levels increased at accelerating rates. Supply chain pressure lengthened vendor lead times to record extents in December. Input and output costs continued to increase, although easing slightly from the November pace.
"The Eurozone manufacturing boom gained further momentum in December, rounding off the best year on record and setting the scene for a strong start to 2018," said Chris Williamson, Chief Business Economist at IHS Markit.
"The growth spurt means many forecasters, notably the ECB, have revised their euro-area growth projections for 2018 higher," he added, noting that "pricing power is shifting from the buyer to the seller, suggesting upward price pressures are gradually returning."
China
The China PMI rose to 51.5 in December from 50.8 in November as output, new orders and export sales accelerated. Backlogs increased during the month as capacity pressures kicked in, but firms saw a marginal decrease in workforce numbers. Higher costs for raw materials continued to drive up input costs and selling prices. A record low November 12-month outlook improved in December, but firms remained concerned about future demand and changes to national policies. CEBM Group macroeconomic analyst Dr. Zhengsheng Zhong said December's manufacturing results indicate the economy stabilized in 2017, but he warned of downward pressure on growth "due to tightening monetary policy and strengthening oversight on government financing."
Russia
Russia ended the year with an upturn in output and new orders that raised the PMI from 51.5 to 52.0 in December. Domestic demand saw a solid increase, but export sales declined slightly. Higher raw material prices and supplier shortages added to cost burdens. Out charges increased at a slower pace in December as the rate of inflation softened. Firms were optimistic about greater investment and demand in the next 12 months.
South Korea
Manufacturing contracted to 49.9 in December for South Korean firms as the pace of new orders slowed and export orders fell for the fourth month. Higher oil and metal prices were noted among increasing raw material costs. Higher operating costs caused firms to increase output charges to improve profit margins. Anticipated new product launches and new orders kept the future outlook strong.
Mexico
The PMI in Mexico dropped to 51.7 in December from 52.4 the previous month. New orders eased from November and production rose at only a marginal rate. However, the underlying market was reported as improved. Export sales expanded modestly for the second month. Currency weakness and higher raw material prices caused a jump in input costs that resulted in higher average selling prices. IHS Markit said confidence in the coming year was at an 11-month low in December as survey panelists worried about presidential elections and general strength of the economy. Currency volatility was attributed in part to uncertainty over the NAFTA renegotiations. A weak start to 2018 is forecast
Canada
Canadian manufacturers finished the year at a three-month high as the new order rate accelerated from improved demand domestically and abroad. The PMI climbed to 54.7 from 54.4. Higher demand pressured operating capacity resulting in job expansion across the manufacturing sector. Vendor times lengthened sharply during the month as demand for raw materials increased. The rate of inflation eased last month, although input prices increased sharply. Canadian firms are optimistic about business conditions for 2018, expecting sustained improvement in domestic and global demand.
United States
IHS Markit saw significant improvement in the manufacturing sector during December. The PMI rose to 55.1 from 53.9 in November for the highest index reading since March 2015. Output was at an 11-month high and new orders at a 10-month high. Exports held relatively steady, improving only marginally. Higher production output led to increased employment levels and higher backlogs. Raw material prices increased for the second month in a row and were linked with supplier delays. Factory gate charges rose along with input costs.
"U.S. manufacturers ended 2017 on a high," said Williamson. "Output growth accelerated to its fastest since the start of the year on the back of a marked upswing in demand as the year came to a close. Prospects for the upturn also look good. With business optimism about the year ahead running at its highest for two years in the closing months of 2017, companies are clearly expecting to be busier in 2018."

Latest in Economy