Steel Markets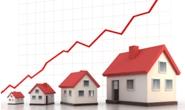 Housing Starts Slower in December But Confidence High
Written by Sandy Williams
January 17, 2018
---
U.S. Department of Commerce data shows that new-home starts declined in December while building permit authorizations remained relatively flat. Housing starts dropped 8.2 percent in December from the previous month to a seasonally adjusted annual rate of 1,192,000. Compared to December 2016, starts were down 6.0 percent.
Single-family housing starts were 11.8 percent below November's level. Construction of multi-family homes with five units or more rose 2.6 percent. Regionally, housing starts fell across the nation with the biggest decline in the South, down 14.2 percent.
Building permits in December were at a seasonally adjusted annual rate of 1,302,000, nearly even with the revised November rate of 1,303,000, but 2.8 percent above the December 2016 rate of 1,266,000. Single-family authorizations in December increased 1.8 percent to a rate of 881,000; authorizations of units in buildings with five units or more slid 4.3 percent to a rate of 382,000 in December.
Permit authorizations jumped 43.0 percent in the Northeast, while the Midwest and West made single-digit percentage gains. Authorizations in the South fell 11.1 percent.
Commerce estimates 1,263,400 housing units were authorized by building permits in 2017. This is 4.7 percent above the 2016 figure of 1,206,600.
Builder Confidence Strong for New Year
National Association of Home Builders/Wells Fargo Housing Market Index (HMI) dropped two points to an index reading of 72 after reaching an 18-year high last month.
NAHB Chief Economist Robert Dietz expects housing demand to grow in 2018. "As the overall economy strengthens, owner-occupied household formation increases and the supply of existing home inventory tightens, we can expect the single-family housing market to make further gains this year."
"Builders are confident that changes to the tax code will promote the small-business sector and boost broader economic growth," said NAHB Chairman Randy Noel. "Our members are excited about the year ahead, even as they continue to face building material price increases and shortages of labor and lots."

Latest in Steel Markets