Steel Mills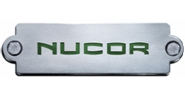 Nucor Expanding Production at Gallatin
Written by Sandy Williams
September 8, 2018
---
Nucor Corp. announced plans to invest $650 million to expand the production capability at Nucor Steel Gallatin. The upgrade would increase the Kentucky flat rolled sheet mill's capability to 3.0 million tons annually from its current level of 1.6 million tons. In addition, the maximum coil width would be increased to 73 inches.
The facility is already undergoing a $176 million expansion to construct a 500,000-ton-per-year hot-band continuous pickle galvanizing line to be completed in the first half of 2019.
"This investment is another major component of our planned strategy for long-term profitable growth," said John Ferriola, Chairman, CEO & President of Nucor. "Together with the new galvanizing line, this expansion increases our presence in the important Midwest market, specifically in the automotive, agriculture, heavy equipment, and energy pipe and tube sectors.
Nucor purchased the former Gallatin Steel Co. in late 2014 for a purchase price of about $780 million. The expansion of production capability is expected to create 70 full-time jobs.
Latest in Steel Mills