Steel Mills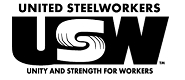 USW: New U.S. Steel Proposal Falls Short
Written by Sandy Williams
September 12, 2018
---
A second contract proposal by U.S. Steel to United Steelworkers has been met with disdain by the USW bargaining committee.
U.S. Steel's Sept. 12 proposal calls for a six-year term with wage increases of 4 percent the first year followed by 2 percent annually the following five years. Workers would receive a $4,000 ratification bonus along with profit sharing bonuses for the third and fourth quarters of 2018 guaranteed at $6,000 or more.
The USW called the wage proposal "sleight of hand" that shifts around wage increases while dropping the variable bonus scheme. The signing bonus of $4,000 was kept in the second proposal while adding $6,000 of "already earned" profit sharing payments that would be paid early to bring the signing bonus to $10,000.
"After sorting everything out, we believe this is essentially the same or even a less costly wage proposal to them," said the USW in a member update. "These are the sleight-of-hand tactics we've seen too many times before."
A choice of health insurance plans is offered: a CDHP health plan with no premium along with an optional Health Reimbursement Account with a contribution of $1,000/$2,000, or a Preferred Provider Organization (PPO) plan with an employee premium. To help with transition, employees who choose the CDHP plan will receive a lump sum payment of $1,500 in January of the following year. Employees who choose the PPO plan will receive monthly payments of $125 in the following calendar year.
The USW argued that the health plan options will end up costing employees more because of higher deductibles and out-of-pocket expenses. The USW added that the monthly and yearly reimbursements would be treated as income and subject to taxes.
Said U.S. Steel in a negotiation update: "We have submitted a revised proposal to USW leadership that reflects the ongoing dialogue during our most recent round of negotiations.
"The revised six-year proposal, which we strongly believe is in the best long-term interest of all U.S. Steel stakeholders, includes a 14 percent base wage increase over the term of the agreement, guaranteed profit sharing, and healthcare premiums offset with transition payments."
U.S. Steel said it would also commit to restarting construction of the EAF at Fairfield with planned completion within 24 months. The #6 heat treat assets at Lorain Tubular Operations would also be retained.
Last week, workers at U.S. Steel overwhelmingly approved a strike authorization. The USW bargaining committee told members after a meeting with U.S. Steel on Wednesday, "It is becoming clear that the company has been surprised by the level of anger and solidarity you've displayed."

Latest in Steel Mills