Steel Markets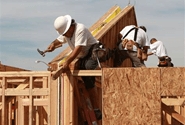 Housing Starts Make Surprise Gain in August
Written by Sandy Williams
September 20, 2018
---
Housing starts rebounded in August after a lackluster gain in July. Data from HUD and Commerce show new residential housing starts jumped 9.2 percent to a seasonally adjusted annual rate of 1,282,000 from the upwardly revised July SAAR of 1,174,000. Starts were 9.4 percent higher than August 2017.
The increase took economists by surprise and was a positive sign for the U.S. housing market. The August gain was due mostly to multi-family starts, which soared 27.3 percent compared to a 1.9 percent increase for single-family housing starts.
The National Association of Home Builders warned, however, that "weaker single-family permit data and expected disruption effects from Hurricane Florence will place downward pressure on starts data next month."
"Although we saw an increase in starts in August, we are likely to see softening in the market in the months ahead," said NAHB Chief Economist Robert Dietz. "Affordability is a particular concern because of home price gains, due in part to the high regulatory burden on new home construction. Increasing costs for building materials prompted partially by recently imposed tariffs on a wide range of products are also a concern. Moreover, interest rates are continuing their gradual upward climb."
The West led the four regions with a sequential increase of 19.1 percent for total starts. Starts in the Midwest jumped 9.1 percent and 6.5 percent in the South, but were flat in the Northeast.
Building permit authorizations fell 5.7 percent from July's revised rate and were down 5.5 percent from August 2017. Authorizations for housing of 2-4 units increased 39.3 percent in August, but fell 6.1 percent for single-family units and 8.0 percent for buildings with five units or more.
NAHB reports that builder confidence in the single-family housing market was unchanged at a reading of 67 in September.

Latest in Steel Markets