Steel Markets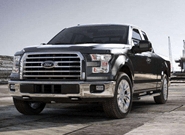 September Auto Sales Fall as Expected
Written by Sandy Williams
October 4, 2018
---
U.S. automotive sales fell 5.5 percent year-over-year in September. Depending on one's perspective, they were either good, at a seasonally adjusted annual rate 17.54 million, or a portent of worse times to come.
General Motors, which no longer reports monthly sales, said third-quarter sales plunged 11 percent and estimates put September sales down a dismal 15.8 percent. Ford, Toyota and Nissan plummeted 11.3 percent, 10.4 percent and 12.2 percent, respectively. FCA was the exception to the downward trend, surging 14.7 percent with sales of Jeeps and pickups.
Vehicles are getting more expensive to build due to metal tariffs and, along with higher interest rates, are pushing prices up. September transaction prices increased an average of 2.0 percent or $700 per vehicle and as much as 4.6 percent in the case of Honda Motors.
Ford Motor Co. announced that metals tariffs will cost the company about $1 billion this year. "The metals tariffs took about $1 billion in profit from us – and the irony is we source most of that in the U.S. today anyways," said Ford CEO Jim Hackett. "If it goes on longer, there will be more damage."
Results for September on an annual basis were somewhat skewed due to a surge of sales in September 2017 as buyers replaced vehicles damaged by Hurricane Harvey. Last month's decline, however, was no surprise to economists.
"Results from August and now September suggest our expectations of a slowing market are correct," said Cox Automotive economist Charlie Chesbrough. "With more interest rate hikes expected this year, and continued increases in transaction prices, monthly payments are rising and some car buyers are getting squeezed out of the market."
Jonathan Smoke, chief economist at Cox Automotive, referenced the potential of new auto tariffs: "The new-vehicle market is challenged by affordability, and ironically the most affordable and most popular vehicles are imported and face the threat of new tariffs, which will drive their prices higher."

Latest in Steel Markets