Economy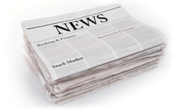 Alro Steel Expands with Acquisitions in Missouri
Written by Tim Triplett
October 11, 2018
---
Alro Steel has acquired two Missouri service centers, extending its reach further west. Alro has purchased the assets of Sedalia Steel Supply, Sedalia, Mo., and Camdenton Steel Supply, Camdenton, Mo.
Established in 1976 by Wayne and Gayle Lamb, Sedalia Steel Supply distributes a complete line of steel products from a 107,000-square-foot facility in Sedalia and 12,000 square feet in Camdenton. Its roughly 40 employees will remain with Alro.
"Alro is excited to have a footprint from which to grow in a new market that is expanding," said a statement from the company.
Based in Jackson, Mich., Alro Steel offers cut-to-size metals and plastics with next-day delivery to over 25,000 customers in North America. It sells a broad inventory of products under the following companies:  Alro Steel, Alro Metals, Alro Metals Outlet, Alro Industrial Supply, and Alro Plastics. Alro was ranked this year by Metal Center News Magazine as the 11th largest service center organization in North America with 52 locations, 2,800 employees and revenues of $1.65 billion.
Latest in Economy