Economy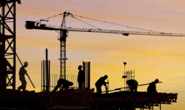 Job Creation Surpasses Expectations in 2018
Written by Sandy Williams
January 6, 2019
---
Job growth in 2018 shattered expectations, adding 312,000 jobs to the economy in December and 2.6 million for the year. Wages increased 3.9 percent after years of marginal growth, due in part to the shrinking labor pool available to fill vacancies.
The construction industry saw unemployment decrease to a historic low of 5.1 percent in 2018. The industry added 38,000 jobs in December and 280,000 for the full year, said the Associated General Contractors of America in an analysis of government data.
AGC reports wages in the industry averaged $30.44 per hour in December, up 3.9 percent from a year ago and 10.8 percent higher than the average of $27.48 for all nonfarm private-sector jobs. The average wage for nonfarm private-sector jobs rose 3.2 percent in the past year.
"Demand for construction remains strong across most project types and locations," said Ken Simonson, the association's chief economist. "Job growth and pay increases in construction are outpacing those in the overall economy. But contractors continue to have difficulty finding qualified workers with the number of unemployed workers who have construction experience at the lowest December level in 19 years."
A survey released last week by AGC reports that 79 percent of firms expect to continue hiring in 2019. However, 78 percent of those surveyed reported trouble filling positions. Finding qualified employees is expected to become even more challenging in the new year.
"Contractors are raising pay and benefits and are investing in training and technology in order to keep pace with demand," said Stephen E. Sandherr, the association's chief executive officer. "But they are also counting on Washington officials to work together to improve aging and over-burdened infrastructure and resolve trade concerns to ensure the economy continues to expand."
The Alliance for American Manufacturing says that tough trade enforcement is helping to create jobs for American workers. The manufacturing sector added 32,000 new factory jobs in December and 284,000 jobs for 2018. AAM also urges infrastructure spending to support continued job creation.
"December was another great month for manufacturing. With 32,000 new jobs last month, tough action against trade cheats is helping create new jobs for American workers," said AAM President Scott Paul in a statement. "The 116th Congress must keep this growth in mind and support policies that will strengthen this trend, such as robust infrastructure investment. With more manufacturing jobs, communities throughout the country grow."

Latest in Economy