Steel Mills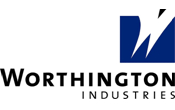 Worthington Industries Posts Gain for Q1 FY 2021
Written by Sandy Williams
September 24, 2020
---
Strong demand in auto, residential construction and consumer products benefited Worthington Industries in the first quarter of FY 2021. The company reported net sales of $702.9 million, an 18 percent decline from the first quarter of FY 2020. Net earnings totaled $616.7 million which included a net pre-tax gain of $746.6 million related to Worthington's investment in Nikola Corporation.
About two thirds of the Nikola stock was converted to cash and $21 million contributed to the Worthington Industries Foundation to establish a charitable endowment. At the end of the quarter, Worthington owned just over 7 million shares of Nikola common stock
"We are pleased with our first quarter results and with how our teams have continued to operate safely and effectively despite the challenging environment," said President and CEO Andy Rose. "We saw improvement in many of our end markets during the quarter, most notably automotive in Steel Processing, along with consumer products in Pressure Cylinders."
The steel processing segment saw sales decline 18 percent year-over-year to $431.0 million, driven by lower average selling prices and direct volume. Shipments of direct versus toll tons processed was 49 percent to 51 percent in Q1 compared to 54 percent to 46 percent in the prior year.
"Relative to mix, we expect that automotive demand will continue for at least the next several months," said Rose during the company's earnings call. "We don't have great visibility, and there's a lot of uncertainty out there with respect to what happens economically and with the pandemic over the next several months. But construction was also a very strong market for us and a lot of that is residential construction, which is seeing real strength and has some mega trends associated with it in terms of people deciding they want to live in different places."
Pressure cylinder sales dropped 11 percent to $271 million due to lower volumes in the oil and gas business and an unfavorable shift in the industrial products segment mix. Continued challenges are expected in the oil and gas market prompting a consolidation Worthington's business segment into two facilities to reduce operating costs.
Sales in the consumer products segment were particularly strong. "Simply stated, as people do more at home or venture outdoors, they're using more of our products," said CFO John Hayek.
Rose noted that demand is solid in most markets, "However, the current economy makes it difficult to predict with confidence how the balance of our fiscal year will play out."

Latest in Steel Mills