Steel Markets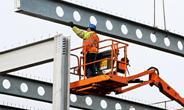 AGC: Construction Job Losses Mount Due to Project Cancellations
Written by Sandy Williams
October 1, 2020
---
Construction jobs in metro areas fell by two-thirds from August 2019 to August 2020, said the Associated General Contractors of America in their latest analysis of government data. Construction employment decreased in 241, or 67 percent, of 358 metro areas during the period.
"Although residential construction is picking up in many areas, public and nonresidential construction are shrinking," said Ken Simonson, the association's chief economist. "Project cancellations are spreading, and fewer new projects are starting up. That combination makes further employment declines inevitable unless the federal government steps up support for infrastructure."
Simonson noted that construction employment was stagnant in 29 metro areas and increased in only 88 areas (25 percent) over the past 12 months. Nineteen metros had all-time lows for August construction employment, while 33 areas had record highs for August, in data going back to 1990 for most areas.
Houston-The Woodlands-Sugar Land, Texas, lost the most construction jobs over 12 months (-22,800 jobs, -10 percent), followed by New York City (-21,700 jobs, -13 percent). Brockton-Bridgewater-Easton, Mass., had the largest percentage decline (-38 percent, -2,200 jobs), followed by Johnstown, Pa. (-34 percent, -1,000 jobs).
Indianapolis-Carmel-Anderson, Ind., added the most construction jobs from August 2019 to August 2020 (4,800 jobs, 9 percent), followed by Baltimore-Columbia-Towson, Md. (4,300 jobs, 5 percent). Niles-Benton Harbor, Mich., had the highest percentage increase (16 percent, 400 jobs), followed by Fond du Lac, Wis. (15 percent, 500 jobs) and Walla Walla, Wash. (15 percent, 100 jobs).
AGC urged congressional leaders to pass new coronavirus relief measures before the next recess. In particular, the construction officials called on Congress to pass new liability protections for firms that are taking steps to protect workers from the coronavirus. They also urged congressional leaders to boost investments in infrastructure and pass measures designed to preserve payrolls.

Latest in Steel Markets