Economy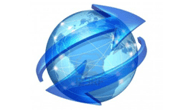 Global Manufacturing Recovering in September
Written by Sandy Williams
October 2, 2020
---
Global manufacturing continued its road to recovery in September. The J.P. Morgan Global Manufacturing PMI rose to a 25-month high of 52.3 from 51.8 in August, for a third consecutive month of expansion.
All of the index components were solidly above the 50 neutral point except for employment, which posted a PMI of 49.5. A jump in new orders was supported by the first expansion in international trade since August 2018. Exports rose across all product categories: consumer, intermediate and investment goods. Production increased at a rate of growth similar to August's 28-month record, said J.P. Morgan. Business optimism was the highest in over two years, particularly for investment goods producers.
"Overall, we think the recovery should be sustained as the re-opening of economies continues. The labor market remains subdued, with the level in the employment PMI depressed. That said, pockets of jobs growth raise the possibility that the retrenchment on this front is softening," said Olya Borichevska, global economist at J.P. Morgan.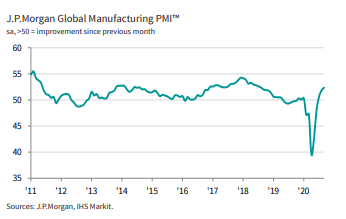 The Eurozone saw its strongest growth in over two years, posting a manufacturing PMI of 53.7, up from 51.7 in August. Manufacturing output and new orders grew at an accelerated rate, led by Germany, said IHS Markit. Export orders expanded for a third month at their fastest rate since February 2018. Employment numbers continued to fall, however, as firms sought to control costs.
"The Eurozone's manufacturing recovery gained further momentum in September, rounding off the largest quarterly rise in production since the opening months of 2018," said IHS Markit Chief Business Economist Chris Williamson. "Order book growth and exports also accelerated, indicating a welcome strengthening of demand. Job losses consequently eased as firms grew more upbeat about prospects for the year ahead, with optimism returning to the highs seen before the trade war escalation in early 2018. Encouragingly, optimism about the future rose not only in Germany but also in France, Italy, Spain and Austria, hinting that the upturn could broaden out in coming months. Without a more broad-based recovery, the sustainability of the upturn looks at risk, with additional worries fueled by rising Covid-19 infection rates.
The Caixin China General Manufacturing PMI posted 53.0 in September, down slightly from 53.1 in August. New orders rose sharply during the month helped by a jump in export orders. Production rose putting pressure on capacity and lengthening backlogs. Purchasing activity boosted pre-production inventories and increased lead times at vendors. Business optimism was at a three-month high.
Dr. Wang Zhe, senior economist at Caixin Insight Group, commented: "The strength of the manufacturing sector will take some of the pressure off policymakers going forward. However, the job market remains worrisome, as the improvement in employment relies on a longer-term economic recovery and a more stable external environment. In the near future, great uncertainties remain about the overseas pandemic and the U.S. presidential election."
Manufacturing in Russia took a turn for the worse at the end of the third quarter as new orders and demand weakened. The PMI slipped back into contraction at 48.9 from 51.1 in August. Despite, a drop in new orders, production continued to rise at a solid rate following the loosening of COVID-19 restrictions. Input costs continued to rise due to raw material shortages that were passed on in higher selling prices. IHS Markit Economist Sian Jones said uncertainty in the global economy and weakened demand indicates a long recovery for the manufacturing sector.
In North America, the U.S. and  Canada sustained a strong pace of recovery while Mexico continued to lag.
The Mexico PMI climbed for a fifth month, but still remained in contraction at 42.2 in September. The economy is struggling to throw off the impacts of the pandemic. New orders and production fell for the seventh consecutive month resulting in less purchasing activity and cuts to staffing. Despite current difficulties, firms were optimistic for the first time in six months as they anticipated the lifting of strict of COVID-19 restrictions.
Canada saw a sharp improvement in business conditions as new orders expanded at the strongest pace since June 2018. The IHS Markit Manufacturing PMI rose to 56.0 from 55.1 in August. Demand rose sharply domestically, from the U.S. and from abroad. Production rose at its quickest pace in two years resulting in longer backlogs and pressure on capacity. Increases in raw material prices drove higher prices for finished products and supply chain disruption continued to be an issue. Business sentiment was high as firms planned for new product launches.
Production accelerated in the United States due to a solid rise in new orders, albeit softer than the previous month. The PMI registered 53.2 in September, up slightly from 53.1 in August. Greater pressure on capacity resulted in firms adding more workers. Costs rose at a sharp pace due to higher prices for raw materials, PPE and supplier shortages. Business confidence eased in September due to uncertainty about the pandemic and the looming national election.
Chris Williamson, Chief Business Economist at IHS Markit, said the third quarter rebounded strongly from the second quarter but all is not rosy.
"The outlook also darkened, as companies grew more concerned about the sustained economic disruption from the pandemic alongside uncertainty caused by the upcoming presidential election," said Williamson. "The sector therefore looks to be entering the fourth quarter on a slower growth trajectory, adding to signs that fourth-quarter GDP growth will wane considerably from the third quarter rebound."

Latest in Economy