Steel Products Prices North America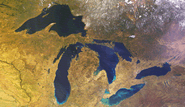 Great Lakes Ore "Feeling the Pinch of COVID-19"
Written by Sandy Williams
October 20, 2020
---
Iron ore trade on the Great Lakes felt the "pinch of COVID-19" during 2020, plummeting 30 percent from its normal levels, reported the Lake Carriers Association.
The pandemic hit just as crews were readying ore vessels for the new shipping season in March. No plans were in place to guide maritime shipping. "The United States Coast Guard was focused on foreign-flag vessels in U.S. waters and ports. It was left to Lake Carriers' and its members to fill the planning and preparedness void," said LCA President James Weakley in the 2020 State of the Lakes report. "Strong communications built on solid facts, short and long-term planning, and vessel operators who understood the seriousness of the situation from the start and the need to keep sailing has been key throughout."
The discussions and best practices agreed on among carriers, ports and customers paid off. As of publication of the September report, no mariners on LCA member vessels have tested positive for COVID-19. The economic impacts of COVID were felt throughout the port system, however.
The temporary closure of automotive manufacturers decimated steel and iron ore demand. January through September, iron ore loadings were 24.2 percent below their five-year averages. Iron ore trade was 28.2 million tons during the period, down 31.1 percent from the first nine months of 2019.
September shipments of iron ore totaled 3.9 million tons, plunging 31.1 percent compared to a year ago and 30 percent below Septembers' five-year average.
The Chamber of Marine Commerce reports that 23.3 million tons of general cargo shipments flowed through the Great Lakes – St. Lawrence Seaway system in the first three quarters of 2020,  an 8.0 percent drop from 2019.
Chamber President and CEO Bruce Burrows noted strong shipments of wind turbine components this year as well as some ports receiving steel slabs from Europe and Brazil.
The Port of Indiana-Burns Harbor saw a significant decrease in steel shipments this year. "While 2020 has been a very busy year at the Port of Indiana–Burns Harbor in terms of general and project cargo shipments, the Covid-19 pandemic has certainly stifled demand for steel products throughout the world, including Northwest Indiana," said Port Director Ian Hirt.  "Through the end of August, year-to-date steel shipments through the port are down 8.9 percent. In September, the port saw waterborne steel cargoes from Belgium and Holland as well as cross-lake shipments from Canada."
Currently, U.S. grain shipments are boosting Great Lake port productivity. From April 1 to Sept. 30, grain shipments increased 4 percent year-over year to 1.1. million tons, and the momentum is expected to continue through the end of the shipping season.

Latest in Steel Products Prices North America