Steel Markets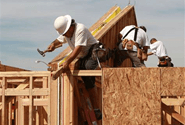 Housing Demand Continues to Accelerate
Written by Sandy Williams
October 20, 2020
---
Housing starts continued to grow in September supported by strong interest in single-family home construction. Housing starts climbed 1.9 percent from August and 11.1 percent from a year ago to a seasonally adjusted annual rate of 1,415,000, reported the U.S. Department of Housing and Urban Development and the U.S. Census Bureau. Single-family starts leapt 8.5 percent year over year while multi-unit dwellings of five units or more plunged 14.7 percent.
"The pace of single-family starts in September was the highest production rate since the summer of 2007," said Robert Dietz, chief economist at the National Association of Home Builders.
Starts were strongest in the Northeast, soaring 66.7 percent sequentially, followed by more modest increases of 6.2 percent in the South and 1.4 percent in the West. Starts in the Midwest plunged 32.7 percent, including a 16.4 percent decline in single-family starts.
"Home sales have exceeded for-sale home construction recently, which means additional home building in the near term," said Dietz. "Demand is being supported by low interest rates, a suburban shift in demand and demographic tailwinds. However, headwinds due to limited building material availability are slowing some construction activity despite strong demand, with authorized but not started single-family homes up 22.4 percent compared to a year ago."
Housing permits authorizations rose 5.2 percent from August to a SAAR of 1,553,000. Permits authorizations were 8.1 percent higher than the September 2019 rate. Authorizations for single-family homes jumped 7.8 percent from August, while buildings of five units or more edged up only 1 percent.
Permits rose across all four regions led by the Northeast at 25.8 percent. Authorizations rose 9.6 percent in the Midwest, 3.2 percent in the West and 2.0 percent in the South

Latest in Steel Markets