Steel Mills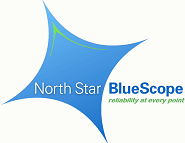 North Star Delivering Results for BlueScope
Written by Sandy Williams
October 25, 2020
---
North Star BlueScope continues to shine for Australian parent company BlueScope Steel. North Star continues to ship at full capacity in the first half of FY 2021 driven by the rebound in the U.S. auto industry. Steel spreads have improved in the half due to higher HRC pricing, although earnings are expected to be somewhat lower than 2H FY 2020 due to contract lag.
After a delay due to COVID-19, construction of the third electric arc furnace at North Star is back on track. The new EAF will have a melt capacity of approximately 850,000 metric tons and a second caster. Once completed, the Delta, Ohio, mill will have an annual capacity of 3 million metric tons.
"Despite the global disruption caused by COVID-19, we've had a solid performance from all of our operating segments for the three months to 30 September," said Managing Director and CEO Mark Vassella. "This is a clear demonstration of the effectiveness of BlueScope's strategy and the resilience of our asset portfolio.
"Benchmark steel spreads have improved and demand in most of our markets is robust. This has been supported by current strength in alterations and additions activity, demand for detached housing, rapid growth in e-commerce and logistics, and the recovery of the U.S. automotive industry, which is a key end-market for North Star."
BlueScope is expecting underlying earnings before interest and tax (EBIT) of approximately AUD 340 million ($242 million U.S.), a 30 percent decrease from the second half of FY 2020
Risks to results include the potential for additional waves of COVID-19 that could disrupt demand, supply chains and operations, said Vassella, as well as macroeconomic weakness dampening demand.

Latest in Steel Mills