Steel Mills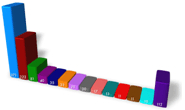 ATI Suffers Loss in Q3 as Pandemic Stalls Aerospace
Written by Sandy Williams
October 29, 2020
---
It's an understatement to say it's been a challenging year for Allegheny Technologies, Inc., said President and CEO Robert Wetherbee during ATI's third-quarter earnings call. Commercial aerospace is ATI's largest end market and was devastated by the COVID-19 pandemic. Sales in the jet engine segment plunged 68 percent year over year and 47 percent in the airframe segment. OEMs spent the third quarter destocking excess inventory, build rates remained low and weak demand was noted throughout the supply chain.
Results for ATI's energy segment fell 40 percent, driven by weak demand attributed to global oil inventories and low energy prices. Demand for civilian nuclear, pollution control and renewable applications remained steady.
In the medical segment, MRI-related sales fell 34 percent as elective surgeries were postponed due to COVID-19 and hospitals. The pandemic shutdowns and restrictions denied installers access to hospitals, and inventory stockpiles rose.
Defense and electronics were the only two segments that showed improvement for ATI, both up 3 percent during the third quarter. Defense demand was led by naval nuclear and military aerospace. Demand for consumer electronics increased in anticipation of the holiday selling season.
ATI posted third-quarter revenue of $598 million, a 41 percent decrease from Q3 2019, and a $7 million operating loss. Losses were partially offset by aggressive cost-saving initiatives begun early in the pandemic.
"We expect fourth-quarter results to be negatively affected by the ongoing pandemic and its outsized impact on commercial aerospace, our largest end market," said Wetherbee. "We are working diligently to match our cost structure and inventories to demand. With early signs of stabilization in our order books, we expect modest improvements in commercial aerospace in 2021, starting with our jet engine materials and components in the second half of the year. We continue to proactively seek opportunities to make ATI a more streamlined and profitable aerospace and defense supplier, emerging stronger as the aerospace industry recovers."

Latest in Steel Mills