Scrap Prices North America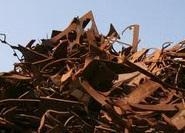 Ferrous Scrap for January Up Another $90-100 a Ton
Written by Tim Triplett
October 29, 2020
---
Late this week with talks ongoing, it appeared ferrous scrap prices for January would settle up by another $90-100 a ton, reported Steel Market Update sources, on top of a $70-100 a ton jump in December.
Complicating negotiations were the many different settled price levels in December. January will see significant increases in all prices and most likely a more common price level for each grade than in December, noted one dealer in the Northeast. He estimated the various grades in the Ohio Valley and Midwest would fall into these ranges when trading concludes: Shred $475-500; P/S $475-495; Bush $500-525; and HMS $440-460.
"Some mills last month went up as much as $100 a ton, so it's questionable if this month's increase was really enough," commented another scrap exec. "In fact, we have heard that several mills in the Midwest purchased additional scrap in mid-December at a $30/GT premium over the first of the month prices."
He pointed to reports of mill scrap inventories running at 50 percent below normal for this time of year. "Mills are trying to decide what they can pay for January scrap, but there are no bargains. There is no real solution now but to pay what you have to in order to get shipments. 
"It's hard to say how high this market can rise," he added. "It should be interesting to see what the effect on scrap prices will be as the new EAF capacity rounds out over the next year or so."
Various sources said the export market for scrap "is on fire." One noted that the Turkish market has bought several cargoes from the U.S. at prices of $480/MT for HMS and $490/MT for shredded. Prices in South America and Mexico are similarly high, and showing no signs of abating.
Export prices are steady to rising with the latest deals out of the U.S. trading at $480/MT CIF for 80/20 and $490/MT CIF for shredded, reported another dealer. "We expect more cargos to trade at those or higher levels as there is demand for February arrivals in Turkey," he said.
"In the U.S., dealers expect prices to be close to export landed numbers. But the mills are being a little cheap, in my opinion, with their reluctance to pay those numbers given the current width of their metal margins. I normally see the market trending lower in February, but I don't necessarily see that this year with supply remaining constrained due to Covid rules and continuing strong demand overseas." 
Pig Iron Market
The pig iron markets are hard to decipher at this point, said one source. "Chinese demand has apparently ebbed for now since they have been reselling cargoes for prompt delivery to U.S. buyers. Of course, these cargoes were purchased and shipped during the past months when prices were well over $100/MT less than they are now. There has been confirmation that a U.S. mill paid $570/MT CFR New Orleans for one of these resold cargoes. Most Brazilian suppliers are sold out until April shipment," he commented. 
By Tim Triplett, tim@metalcenternews.com

Latest in Scrap Prices North America