Steel Mills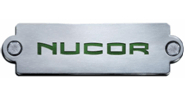 Nucor Acquires Precoat Metals' Arkansas Paint Line
Written by Sandy Williams
October 29, 2020
---
Nucor has agreed to acquire Precoat Metals' paint line facility in Armorel, Ark., accelerating Nucor's entry into the painted products market, said Troy Brooks, vice president and general manager of Nucor Steel Arkansas. Precoat's paint line is located near the Nucor Steel Arkansas sheet mill campus and has a capacity of approximately 250,000 tons per year.
Nucor decided to acquire an existing facility rather than build a new one. "We will be able to diversify our product and market mix sooner, bringing value-added products to customers in construction, HVAC, garage door, lighting, transportation and other key pre-paint markets," said Brooks. "We are excited to welcome those Armorel teammates who will be joining the Nucor family."  
Nucor Steel Arkansas recently completed construction of a new specialty cold mill complex and is currently building a new third-generation advanced high-strength steel galvanizing line with an annual capacity of approximately 500,000 tons. The galvanizing line is expected to begin operations in 2021. The Arkansas facility has an annual production capability of 2.65 million tons of hot rolled sheet.
Latest in Steel Mills