International Steel Prices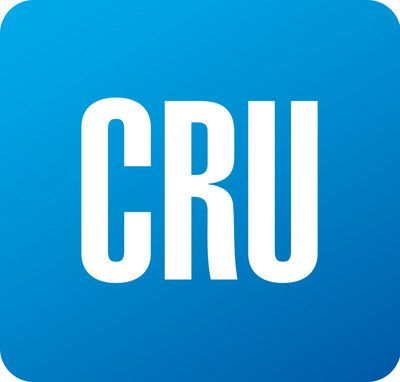 CRU: Sheet Diverges Further from Plate
Written by George Pearson
November 3, 2020
---
By CRU Prices Analyst George Pearson, from CRU's Steel Monitor
Lack of supply and higher demand is causing sheet prices to diverge further from plate across regions, with U.S. sheet prices reaching their highest level since April 2019 this week. New lockdown announcements have not had an impact on the European market at this point, while Chinese prices are still rising.
Sheet prices in the U.S. Midwest market have maintained their upward trend. While prices continue to rise, the overall volume has again fallen. This decrease in volume is due to mills limiting order intake as most have limited availability for December and they have not yet opened January order books. We do anticipate that once January order books are opened, they will be booked up quickly, regardless of how high mills raise prices. We would not be surprised to see mills target a large price increase for January HR coil. However, we do expect the price run-up to plateau in the coming weeks as most fundamentals that supported this run back in August are set to provide less support in the near term, assuming there are no further production issues.
The U.S. Midwest plate market also has continued to rise. While mills are achieving higher-priced transactions, they have not been as successful here as for sheet products as plate prices remain at a record low discount to HR coil. The November scrap settlement may allow plate mills to continue to achieve higher prices. Yet the limited end demand for plate versus still strong demand and a lack of supply for sheet suggests that plate will remain below HR coil prices for some time.   
German sheet prices took a clear step up, rising by €8-10 /t w/w. HR coil remains in tight supply and lead times are extended, making material for delivery in December-January difficult to secure and pushing prices higher. Mill offers for German customers are at €530-550 /t at present. Some business was heard in this range, but this was too late to be reflected in this week's index and was considered too high to be a repeatable transaction level. New export orders for February shipment offer no short-term alternative to domestic material, although we have heard of continued orders for Turkish HR coil despite the European Commission AD investigation. Turkey's HR coil quota is expected to exhaust in mid-November. Italian sheet prices did not increase to the same extent as Germany, rising €2-5 /t w/w. The data mix in Italy showed that some participants had pulled higher on price this week, which may indicate further increases are soon to spread across that market.
Plate prices increased by €5 /t to €533 /t in Germany and by €1 /t to €483 /t in Italy. Further price increases for HR coil, which rose by €10 /t in Germany this week could see plate prices receive price support, but any industry separate from auto continues to experience lower demand.
Chinese steel prices gained momentum over the past week. The rebar price jumped by RMB110 /t to RMB3,850 /t, which is the highest level in 2020. HR coil also increased by RMB70 /t. The manufacturing sector continue to be supported by underlying demand and construction activities remained strong in the southern part of the country. Recently, there was also an investigation about concerns of rebar quality in Zhejiang province. This disrupted rebar production slightly in the region of Jiangsu province and supported higher prices.
Mill capacity utilization rates fell by 2 percentage points compared to one month ago to ~85% and total weekly output fell by 3% w/w. Steel destocking accelerated and total steel inventory dropped to 28% higher y/y. We believe the recent price rally is short-lived as construction activity is expected to slow down in the coming weeks. Therefore, prices, especially for the rebar, are exposed to downside risks.
Chinese plate prices edged up by RMB10 /t this week on overall strong momentum in the ferrous market. Construction activity remained strong in the southern part of the country. Plate inventories fell by 2% w/w and are now only 14% higher y/y. However, weekly output, remained flat w/w. We expect plate demand to continue to be supported by infrastructure project work in the short-term.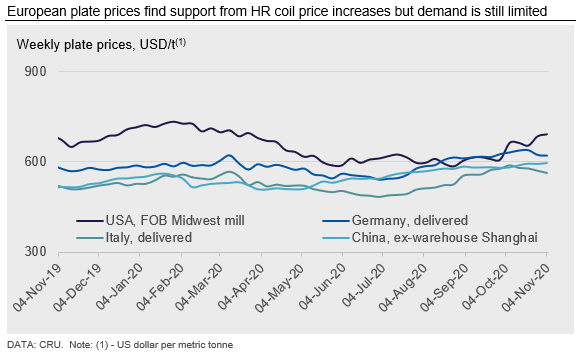 Request more information about this topic.
Learn more about CRU's services at www.crugroup.com
Latest in International Steel Prices