Economy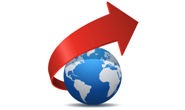 Global Manufacturing Activity Improves in October
Written by Sandy Williams
November 3, 2020
---
The J.P. Morgan Global Manufacturing PMI reached a 29-month high in October, posting a score of 53.0. Manufacturing output expanded across consumer, intermediate and investment goods industries with the weakest sector consumer goods. Twenty of 26 countries in the survey saw manufacturing activity increase, however activity in Japan, Greece, Malaysia, Indonesia and Russia contracted last month. New orders rose for the fourth consecutive month resulting in higher levels of optimism among firms. Business sentiment was at a 29-month high. Prices for inputs were higher and supply-chain disruptions continued to cause vendor lead times to lengthen.
"The recovery in the global manufacturing sector continued early this quarter with the level in the PMI for output and new orders among the highest seen over the past two and a half years," said J.P. Morgan Global Economist Olya Borichevska. "One risk to the goods sector recovery is the sharp increase in new virus cases, which has resulted in activity restrictions across Europe."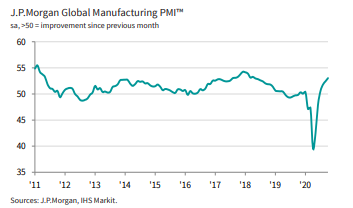 Manufacturing in the Eurozone improved in October with expansion in all three market groups, although with noted slowing in consumer goods. The IHS Markit Manufacturing PMI rose to 54.8, up from 53.7 in September, reaching its best mark in 27 months. Germany led the region with it highest PMI in nearly two years. Demand rose sharply from both domestic and overseas clients, resulting in longer lead times and declining stocks of raw materials and finished products.
"Eurozone manufacturing boomed in October, with output and order books growing at rates rarely exceeded over the past two decades. However, while the data bode well for production during the fourth quarter, the expansion is worryingly uneven," said IHS Markit Chief Business Economist Chris Williamson. 
China continues to show marked improvement in business conditions with sharp rises in new orders and output. The Caixin China General Manufacturing PMI rose 0.6 points to 53.6 in October. Export orders were weaker due to pandemic surges and uncertainty. The recovery is solidly underway as the pandemic fades in China. "Manufacturing supply and demand improved at the same time. Enterprises were very willing to increase inventories. Prices tended to be stable. Business operations improved and entrepreneurs were confident, said Dr. Wang Zhe, Senior Economist at Caixin Insight Group. "But the twists and turns of overseas infections remained a headwind for exports. The full recovery of employment depends on stronger and more-lasting business confidence."
The PMI for Russia remained in contraction at 46.9 in October, falling from 48.9 in September. Operating conditions declined at the fastest rate in five months as manufacturing output decreased in response to weaker client demand and continued impact from Covid-19. New orders fell domestically while new export orders rose for the first time since December 2018. Raw material shortages and logistical difficulties extended supplier delivery times last month and contributed to a spike in prices. IHS Markit expects the Russian manufacturing sector will remain in contraction until the second quarter of 2021 due to challenges from domestic demand uncertainty regarding the pandemic.
Business conditions in Canada showed strong improvement in October as new orders boosted production volumes and job creation. The IHS Markit Canada Manufacturing PMI registered a solid 55.5, down slightly from 56.0 in September. Restocking of inventories was frustrated by supply shortages and delivery issues. Input costs rose, particularly for aluminum, and factory gate prices remained strong although easing slightly from September. Firms were relatively optimistic about demand and production in the coming year as the pandemic passes.
Manufacturing in the U.S. improved again in October as output and new domestic orders accelerated. The PMI rose to 53.4 from 53.2 in September. New export orders declined for the first time since July, attributed to renewed pandemic lockdown restrictions at export destinations in Europe.
Williamson commented, "With clues being sought as to whether the economy can sustain its recovery after rebounding from lockdowns, the rise in the PMI in October is encouraging news. It's inevitable that the pace of economic expansion will weaken after the surge seen in the third quarter, but the strength of the PMI hints at a recovery for which the underlying trend continues to strengthen at the start of the fourth quarter."
Mexico did not report survey data for the October IHS Markit PMI. In September, the Mexico PMI was at 42.1, improving from 41.3 in August.

Latest in Economy