Economy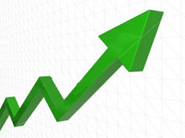 Welcome News on ISM Manufacturing PMI
Written by Sandy Williams
November 3, 2020
---
The ISM Manufacturing PMI exceeded expectations in October posting a score of 59.3 percent, a 3.9 percent increase from September and indicating factory growth for the fifth consecutive month.
"The manufacturing economy continued its recovery in October," said Timothy Fiore, chairman of the Institute for Supply Management Manufacturing Business Survey Committee. "Survey committee members reported that their companies and suppliers continue to operate in reconfigured factories; with every month, they are becoming more proficient at expanding output."
The new orders index rebounded 7.7 percent to 67.9 in October with all of the top six industry sectors expanding during the month. The production index gained two points to register 63 percent. The inventory index for raw materials grew 4.8 to 51.9 percent as supply chain issues eased somewhat during the  month. Customer inventories remained too low at 36.7 percent, a decline of 1.2 points from September and a positive for future production.
"Manufacturing performed well for the third straight month, with demand, consumption and inputs registering growth indicative of a normal expansion cycle. While certain industry sectors are experiencing difficulties that will continue in the near term, the overall manufacturing community continues to exceed expectations," said Fiore.
Comments from the October survey:
"Continue to see increases in customer demand. We still are not back to pre-COVID-19 levels but are continually improving." (Fabricated Metal Products)
"Business is almost back to normal levels; however, customers are still cautious with capital spending." (Machinery)
"Sales continue to be strong — up 4 percent this September compared to September 2019. The year-to-date level is still 21 percent below last year due to the [COVID-19] shutdown, but sales are stronger than expected and forecast to stay strong through the first quarter of 2021." (Transportation Equipment)
"COVID-19 continues to have an effect on supplier support and operations, more from a decreased labor perspective rather than unavailable material." (Computer & Electronic Products)
"Business continues to be robust. Sales are greater than expectations, and cost pressures are modest. There is posturing by suppliers on market price increases for corrugated and polypropylene, yet no firm price increases at this time. We expect a strong finish to 2020 and a solid start in 2021." (Chemical Products)
"Business levels have just about returned to pre-COVID-19 levels. Our company is remaining conservative with fixed-cost spending, knowing the uncertainties that lie ahead with COVID-19 and its potential impact globally." (Miscellaneous Manufacturing)
"Increased production due to stores stocking up for the second wave of COVID-19." (Food, Beverage & Tobacco Products)
"Construction materials have leveled off but continue to be at an all-time high. Mills for board sheet stock have pushed out lead times citing increasing backlogs related to the pandemic and increased supply in the housing market." (Furniture & Related Products)
"We continue to see stronger month-over-month orders in plastic injection molding." (Plastics & Rubber Products)
Below is a graph showing the history of the ISM Manufacturing Index on a three month moving average. You will need to view the graph on our website to use its interactive features; you can do so by clicking here. If you need assistance logging in to or navigating the website, please contact us at info@SteelMarketUpdate.com.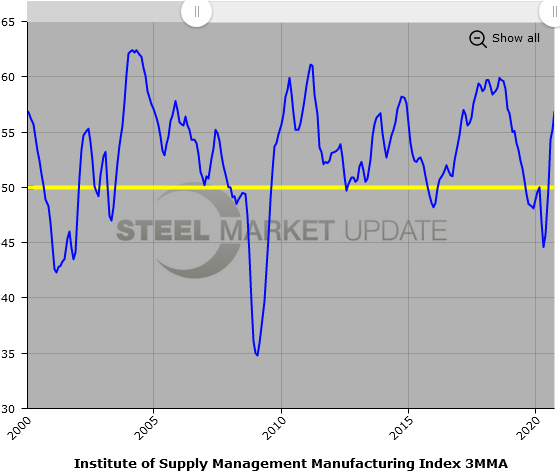 Latest in Economy