Economy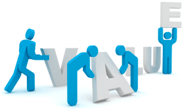 Digital Transformation: How Metals Businesses Prioritize Technology
Written by Tim Triplett
November 7, 2020
---
By Tony Barnes and Andrew O. Callaghan
Although the COVID-19 pandemic has caused companies in many industries to scale back various improvement projects and expansion plans, it does not appear to be slowing the adoption of advanced digital technology in the metals industry. Recent survey data, reinforced by extensive industry observation, suggests that many metals companies' plans to develop and implement digital solutions are continuing unabated, regardless of the disruptions brought on by the pandemic.
In fact, some argue that pandemic-driven disruptions make tools such as artificial intelligence, machine learning, data analytics, and the internet of things (IoT) even more critical to companies' ultimate success. With the transition from traditional, on-premises technology applications to more advanced, cloud-based solutions, a growing number of metals companies are striving toward a genuine digital transformation—an approach that looks beyond individual tools and solutions to encompass an overall strategy for improving company performance and results.
Technology's Importance Continues to Grow
Early in 2020, Crowe conducted its ninth annual survey of metals industry executives, examining the role of information technology in the global industry. (A full report on the survey findings is available for download.)
The timing of this year's survey coincided with the onset and advance of the pandemic, with approximately 25% of the respondents completing their surveys before April 1 and the rest submitting their responses after that date. A review of the survey results found no significant differences in participants' opinions regarding the role of technology as the pandemic spread.
Rather, the responses from the more than 300 participants in the survey demonstrated the continuation of a multiyear trend in which companies view technology as an increasingly important element of their businesses. As Exhibit 1 illustrates, over the past four years the number of respondents who say new technology investments are very important to their companies has grown from 39% to 66%, while the number who rate new technology investments as unimportant has dropped to nearly zero. This trend highlights the fact that technology innovation is now a minimum expectation in the metals industry, and companies need to look beyond basic applications to differentiate themselves from the competition.
Exhibit 1: Importance of New Technology Investments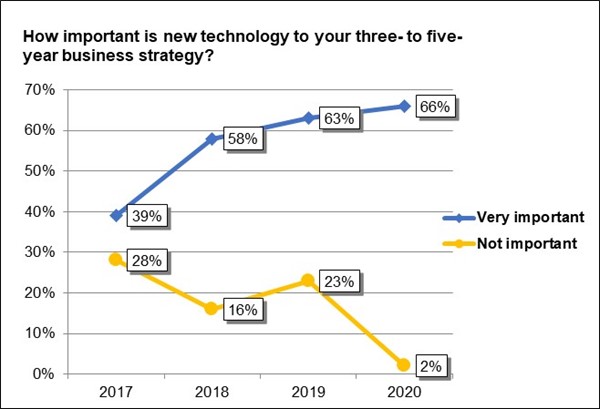 Source: 2020 Crowe annual metals IT research project
Core Platforms Move to the Cloud
Core platforms such as enterprise resource planning (ERP) continue to account for a large portion of the industry's overall technology investment, but the Crowe survey shows that ERP's share of the spend is leveling, and the adoption of new technology is increasing significantly.
For example, just over half (52%) of the companies in the survey said they planned ERP upgrades or implementations in 2020. This modest decline from just a few years ago suggests companies are beginning to shift investment away from core technologies toward more advanced capabilities.
At the same time, however, investment in core technology systems such as ERP remains significant, particularly as more and more companies make the transition from on-premises systems to cloud-based platforms. In addition to enabling remote handling of management and administrative functions (a growing priority in response to the pandemic), cloud-based systems also offer metals companies the ability to address one of the most challenging issues reported by survey participants: the ability to get disconnected systems to talk to each other.
As shown in Exhibit 2, about half (49%) of the respondents said they encountered some challenges integrating their ERP systems to other line-of-business applications, and another 19% encountered significant challenges.
Exhibit 2: ERP Integration Challenges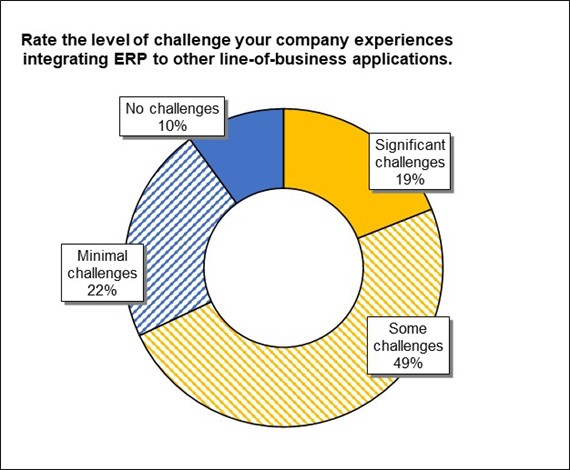 Source: 2020 Crowe annual metals IT research project
Cloud technology is instrumental in addressing another top concern of survey participants: cybersecurity. With robust data and identity tools and up-to-date safeguards, cloud-based platforms offer superior capabilities for detecting, blocking, and responding to data breaches and other threats.
Advanced Technology Becomes a Business Imperative
Looking beyond core systems, advanced technology solutions such as artificial intelligence, machine learning, and IoT applications are rapidly gaining traction in the industry. Nearly half (46%) of the executives in the survey reported their companies already are using at least one such advanced digital solution, and almost 85% plan additional investment in advanced technology within the next five years.
Artificial intelligence was the most-often-cited category of planned technology investment, followed closely by machine learning, additive manufacturing, and IoT, as shown in Exhibit 3.
Exhibit 3: Advanced Technology Plans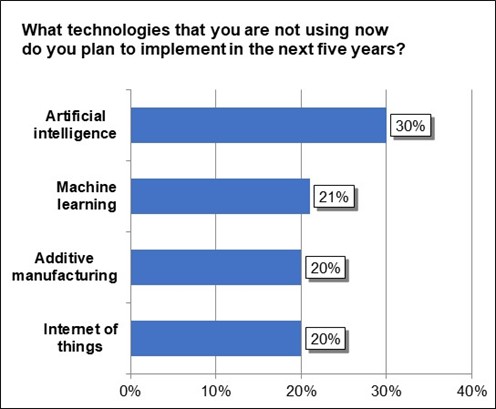 Source: 2020 Crowe annual metals IT research project
The numbers suggest that companies that are not exploring these advanced types of technology—especially tools for data analysis such as machine learning and artificial intelligence—risk falling behind their competitors. In response to another question, more than a third (36%) of the participating executives said their companies already are using data analytic tools consistently to explore data and recommend actions.
Identifying ways to use data to power decisions can help companies understand customer needs, anticipate trends, and respond to issues before they become problems.
Customer Expectations Drive Digital Strategies
Ultimately, customer expectations are the primary driver behind the metals industry's accelerating adoption of advanced technology. For example, almost half of the companies in the Crowe 2020 survey said they already are offering direct online sales to customers or plan to do so within the next three years (Exhibit 4). Both customer demand and changing buyer demographics are driving this evolving sales channel, with more tech-savvy buyers expecting a seamless digital experience.
Exhibit 4: E-commerce Plans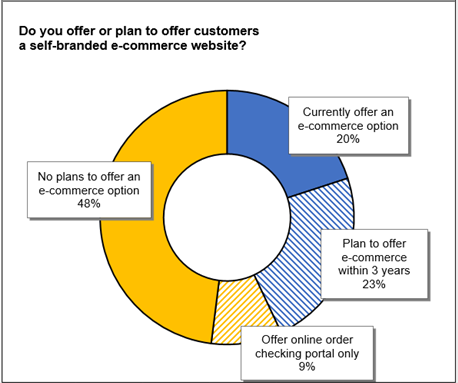 Source: 2020 Crowe annual metals IT research project
It is important to note, however, that the use of technology is, by itself, no longer a differentiator in the industry. To be effective, technology—including advanced solutions such as data analytics—must be applied within the context of a larger digital transformation that encompasses not only specific tools but also an overall strategy for improving company performance and results.
After initially lagging behind other economic sectors in the adoption of information technology, the metals industry in recent years has begun moving more aggressively to adopt advanced digital applications that allow companies to achieve strategic goals such as improving the customer experience, making better products in a more cost-effective manner, and attracting and engaging a younger workforce.
The responses to the 2020 Crowe industry survey indicate that, regardless of the current pandemic-influenced economic environment, this digital transformation is continuing and accelerating.
Editor's note: Authors Tony Barnes (tony.barnes@crowe.com) and Andrew Callaghan (andrew.callaghan@crowe.come) are executives with Crowe, one of the largest public accounting, consulting, and technology firms in the United States. With decades of experience in the metals industry, Crowe provides metals-specific accelerators, analytics tools, and productivity apps to help businesses see real results with its technology and ERP platforms.

Latest in Economy