Steel Markets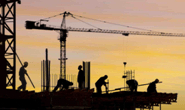 Dodge Momentum Index Shows Decline in Commercial Construction Planning
Written by Sandy Williams
November 9, 2020
---
Planning for nonresidential construction projects continued to slow in October, says Dodge Data & Analytics. The Dodge Momentum Index fell 1.8 percent last month to 127.5 following a revised September reading of 129.8. The Index is a monthly measure of the first report for nonresidential building projects in planning, which have been shown to lead construction spending for nonresidential buildings by a full year.
Commercial projects fared the worst in October, losing 4.4. percent for the month. Planning for institutional projects gained 3.3. percent.
"The Momentum Index has struggled to make consistent gains since passing its post-pandemic low in June. Economic growth has slowed over the past few months, creating weaker demand for commercial projects," said Dodge Data & Analytics. "The fear about a new wave of COVID-19 infections may also be impeding planning activity in consumer-focused projects such as hotels and retail, although planning for warehouse projects continues to impress. Even with this month's gain, the institutional component of the Momentum Index remains well below levels seen prior to the pandemic as state and local entities come to grips with the widening budget chasm."
Ten projects with a value of $100 million or more entered the planning phase in October.
Below is a graph showing the history of the Dodge Momentum Index. You will need to view the graph on our website to use its interactive features; you can do so by clicking here. If you need assistance logging into or navigating the website, please contact us at info@SteelMarketUpdate.com.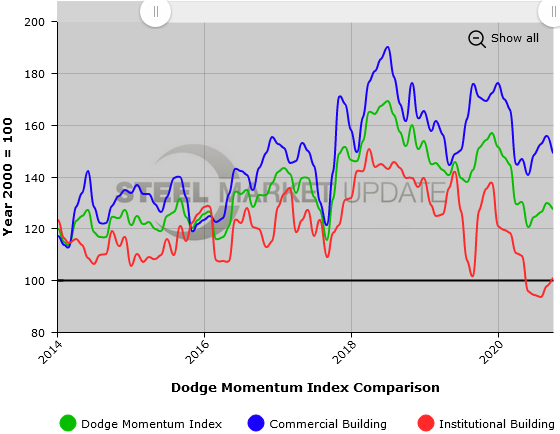 Latest in Steel Markets