Economy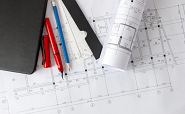 Architectural Billings Stall in October
Written by Sandy Williams
November 20, 2020
---
Architecture firms report that project planning in October remained weak for the eighth consecutive month. The Architecture Billings Index rose slightly to 47.5 from September's reading of 47.0, but any number below 50 indicates a decline in billings.
The project inquiries index was a more promising sign for future business conditions, climbing to its highest level in almost a year at 59.1. The new contracts index also improved, pulling from contraction at 48.9 in September to a positive reading of 51.7 in October.
"Though still in negative territory, the moderating billings score along with the rebound in design contracts and inquiries provide some guarded optimism," said AIA Chief Economist Kermit Baker. "The pace of recovery will continue to vary across regions and sectors."
Firms that specialize in multifamily residential continue to see increasing demand, but business at institutional firms remains soft. The sector scores showed residential at 55.1, institutional at 42.2 and commercial/Industrial at 48.0.  The infograph below from the American Institute of Architects indicates relatively strong growth for residential and commercial project planning since March, while growth in the institutional sector has been tepid.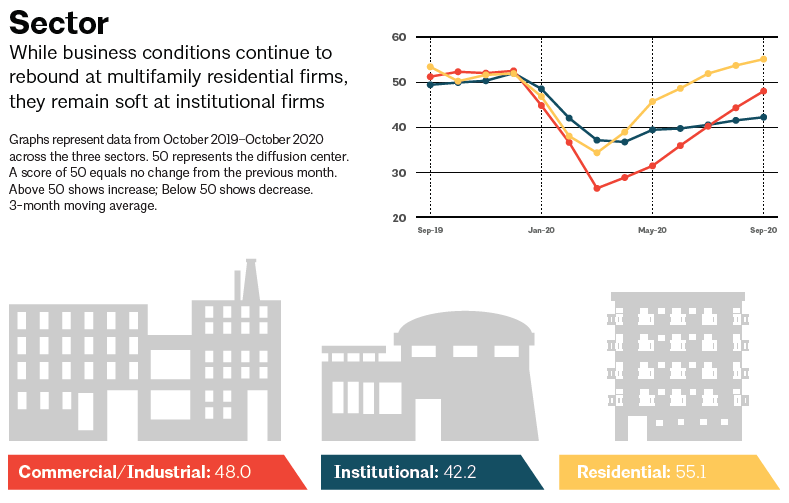 "Despite encouraging numbers overall, firms in many areas of the country are still seeing relatively weak business conditions," said AIA. "However, billings returned to the positive side at firms located in the West for the first time in nine months in October, and conditions approached growth at firms located in the Midwest."  Scores by region were:  West 50.4, South 45.8, Midwest 49.4 and Northeast 44.9.
ABI respondents also noted shortages and higher prices for construction materials. In the past six to 12 months, 60 percent of AIA responding firms said they have seen some degree of higher prices and limited availability of construction materials. Of those firms, 91 percent indicated that price/availability issues are at least a somewhat serious problem at their firm, with 15 percent reporting it as a very serious problem. Higher costs and limited availability have resulted in scaling back, postponing or canceling projects.
Similar conditions were reported by the Associated General Contractors of America. Three out of four construction firms surveyed in October by AGC reported a scheduled project had been postponed or canceled. Forty-two percent said they were experiencing project disruptions due to a shortage of construction materials, equipment or parts. Delays or cancellations of deliveries by suppliers were reported by 46 percent of respondents.
Comments by architectural firms this month include:
"Senior housing is busy across the country. Difficult to keep up with the projects, especially with the materials changes."—43-person firm in the South, residential specialization
"Business conditions are a bit better than in the summer. While all major work is on hold, smaller projects appear to be moving forward, albeit slowly."—20-person firm in the Northeast, institutional specialization
"Projections for the next couple months are close to normal levels, but after year-end they drop off a cliff."—155-person firm in the West, commercial/industrial specialization
"We are seeing increased competition for fewer projects by firms seeking additional market sectors and increasing their geographic range. Architects in our area are pursuing any and all projects to maintain billings and retain qualified staff."—35-person firm in the Midwest, institutional specialization.

Latest in Economy