Steel Markets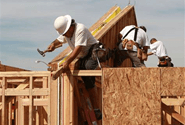 Home Building Leads October Construction Spending
Written by Sandy Williams
December 1, 2020
---
Residential construction spending expanded for the fifth month in October, rising 2.9 percent led by a 5.6 percent jump in single-family home building. Nonresidential construction, however, was flat in October as the private sector worried about the pandemic and budgets remained tight at the state and local levels.
Total construction spending for the month was $1.44 trillion at a seasonally adjusted annual rate, said the Associated General Contractors of America in their latest analysis of government data. October construction spending rose just 1.3 percent from September and 3.7 percent from a year ago and was almost entirely due to the residential construction sector. Private and public nonresidential spending were essentially unchanged from September and fell 3.7 percent from October 2019.
Private nonresidential construction spending slipped 0.7 percent in October for its fourth consecutive month of decline. Commercial construction, comprising retail, warehouse and farm structures, slid 1.0 percent, said AGC. Power and manufacturing construction both slid 0.8 percent from September to October and office construction edged downward 0.2 percent.
Public construction spending increased 1.0 percent in October and 3.7 percent from a year ago. Highway and street construction spending, the largest public category, rose 1.6 percent. Educational construction increased 1.1. percent and transportation construction spending rose 1.0 percent.
Along with the 5.6 percent jump in single-family construction, spending for multifamily construction rose 1.2 percent and spending for improvements was flat.
"The October spending report shows private nonresidential construction is continuing to slide," said Ken Simonson, the association's chief economist. "Public construction spending has fluctuated in recent months, but both types of nonresidential spending have fallen significantly from recent peaks this year and appear to be heading even lower."
AGC continues to lobby Congress and the administration for new infrastructure spending as well as strengthening the Paycheck Protection Program and protecting firms from frivolous coronavirus liability lawsuits.
"As long as the coronavirus undermines private sector confidence and public sector budgets, the only way to save good-paying construction careers is through new federal relief measures," said Stephen E. Sandherr, AGC's chief executive officer. "Fixing the nation's infrastructure, preserving the benefits of the PPP program and protecting honest employers will give the economy a much-needed short-term boost."

Latest in Steel Markets