Steel Markets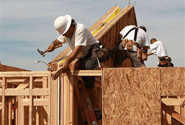 Single-Family Housing Construction Flattens in November
Written by Sandy Williams
December 17, 2020
---
Housing starts rose 1.2 percent in November to a seasonally adjusted annual rate of 1,547,000 and were 12.8 percent higher than November 2019. Single-family housing starts flattened in November increasing just 0.4 percent to a rate of 1,186,000. Starts for buildings of five units or more rose 8.0 percent. On a year-to-date basis, single-family construction is up 10.1 percent compared to last year.
"The single-family construction sector appears to be leveling off at strong levels, with permits roughly at a flat level from September to October," said NAHB Chief Economist Robert Dietz. "Nonetheless, the growth for single-family construction was a true bright spot amid economic challenges in 2020, with single-family starts up 10 percent year-to-date and posting the best year since the Great Recession. However, the backlog continues to grow, with the number of single-family homes permitted but not started construction up 16.3 percent from November 2019 to November 2020 as material delays and higher costs hold back building."
Construction starts were primarily located in the Northeast, up 58.8 percent in November, followed by the West with an 8.2 percent gain. Starts slipped 4.9 percent in the Midwest and fell 6.0 percent in the South.
Permit authorizations were at a seasonally adjusted annual rate of 1,639,000, 6.2 percent higher than October and 8.5 percent above the November 2019 rate. Single-family housing permits rose 1.3 percent from October while multi-unit housing permits jumped 22.8 percent. Permit authorizations increased across all four regions: Northeast 12.9 percent, Midwest 3.8 percent, South 4.7 percent and West 8.3 percent.
Latest in Steel Markets