Steel Markets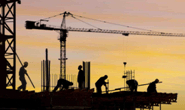 Home Building Leads Construction Spending in November
Written by Sandy Williams
January 4, 2021
---
Construction spending was heavily weighted toward single-family homebuilding in November, according to an analysis of government data by the Associated General Contractors of America. Residential construction soared 2.6 percent last month and 16.2 percent year-over-year, contrasting a 0.6 percent decline in private and public nonresidential spending in November and a 4.7 percent tumble from a year ago.
Construction spending totaled $1.46 trillion at a seasonally adjusted annual rate, up 0.9 percent from October and 3.8 percent from November 2019.
Private nonresidential construction slipped 0.8 percent from the previous month and 9.5 percent year-over-year. Declines were noted in power, commercial and healthcare construction. Construction for manufacturing was nearly flat at a 0.1 percent gain and office construction gained 0.3 percent.
Public construction dipped 0.2 percent last month, but increased 3.1 percent year-over-year, said AGC. Spending declined in most nonresidential categories, but highway and street construction, the two largest segments, gained 1.8 percent in November. Educational construction rose 0.3 percent.
"Private nonresidential construction declined for the fifth-straight month in November, while public nonresidential spending slipped for the fifth time in the past six months," said AGC Chief Economist Ken Simonson. "Unfortunately, our latest survey finds contractors expect the volume of projects available to bid on in 2021 will be even more meager."
Demand for new homes soared during 2020, fueling November's rise in private residential construction spending. Single-family construction spending climbed 6.1 percent, home improvement spending gained 0.2 percent and multifamily construction spending was flat, said the association.
AGC continues to lobby the government for an infrastructure spending bill and other measures that will boost demand for nonresidential construction.
"Without additional measures to boost demand for nonresidential construction, this year is likely to be a challenging one for the industry," said Stephen E. Sandherr, the AGC's chief executive officer. "The impacts of the pandemic are clearly accumulating for many construction employers."

Latest in Steel Markets