Economy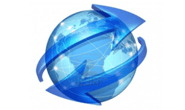 Global Manufacturing Ends 2020 With Optimism
Written by Sandy Williams
January 6, 2021
---
Global manufacturing ended 2020 with growth rates for production and new orders among the strongest of the past decade. The J.P. Morgan Global Manufacturing PMI posted 53.8, unchanged from November's 33-month high. Output continued to expand in December, although at a slightly slower pace, and was led by growth in Germany, Brazil and India. New orders expanded for the sixth month supported by an increase in export orders. Employment growth was flat with job creation in the U.S. and Japan offset by staff cuts in China, the Eurozone and UK. Supply chains continued to struggle with pandemic disruptions resulting in supplier lead times lengthening to near-record extents. Rapidly rising input costs triggered the steepest growth in selling prices since mid-2018. The global outlook remains positive but tempered with caution due to new waves of COVID infections.
The IHS Markit Eurozone Manufacturing PMI accelerated to 55.2, gaining 1.4 points from November and remaining above the 50 neutral mark for the sixth successive month. Demand for German goods drove much of the growth in December along with an increase in export activity. Backlogs increased for a fifth month with production impacted by supplier delays and input shortages. Inventories fell as manufacturers depleted stocks of raw materials and semi-manufactured goods. Operating expenses rose to the greatest degree since November 2018, said IHS Markit, as inflation rates climbed sharply in the region. Optimism for business activity in the next 12 months was at its highest level in almost three years as manufacturers looked forward to a normalization of operating conditions by the end of 2021.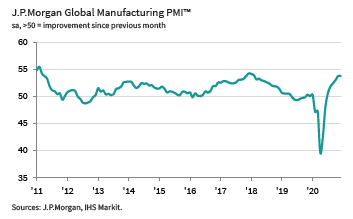 Business conditions in Russia improved in December, but remained in contraction for a fourth month with a PMI reading of 49.7. Supplier chain disruptions, raw material shortages and unfavorable exchange rates accelerated input cost inflation resulting in higher selling prices. Production and new orders declined, but at a softer rate in December. New export orders rose for a third month while domestic demand remained muted. The future outlook strengthened as manufacturers pinned their hopes for recovery on pent-up demand.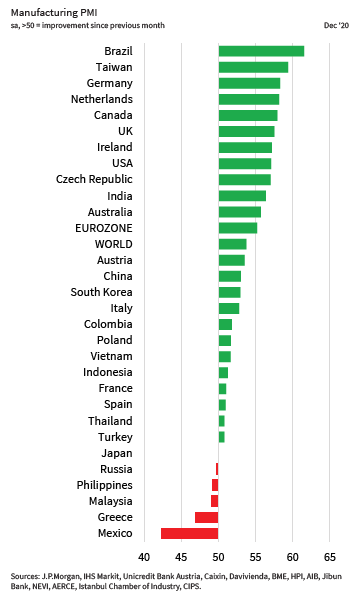 China continued its recovery from the pandemic with a marked increase in new orders and production, although at a slower pace than November. The Caixin China General Manufacturing PMI remained in expansion at 53.0, but slipped from the previous month's reading of 54.9. Input costs rose to their highest point since December 2017 and included a significant rise in pricing for industrial metals. The surge in costs pushed output prices to their highest level since June 2018.
Dr. Wang Zhe, senior economist at Caixin Insight group, noted that supply and demand continued to improve along with a steady increase in exports. "In terms of the trend, we expect the economic recovery in the post-epidemic era to continue for several months, and macroeconomic indicators will be stronger in the next six months, taking into account the low bases in the first half of 2020. Meanwhile, we need to pay attention to the mounting pressure on costs brought by the increase in raw material prices and its adverse impact on employment, which is particularly important for the design of the exit from stimulus policies implemented during the epidemic."
In North America, Canada and the U.S. continued their strong recovery, but Mexico remained burdened by severe impacts from the COVID-19 pandemic. The IHS Mexico Manufacturing PMI fell to a three-month low of 42.4 in December. The PMI has been in contraction most of the year, averaging 41.3 in the third quarter and 43.2 in the fourth. Demand domestically and abroad fell at a quicker pace last month and was largely blamed on pandemic restrictions and business closures. The industry saw sharp declines in production, employment and inventories. Raw material shortages and shutdowns added to supply chain delays. Despite rising input costs, selling prices fell for the 14th consecutive month as demand for inputs waned. Outlook pessimism moderated in December as firms looked forward to new growth in 2021 as the pandemic subsides. IHS Markit expects economic output to increase 3.7 percent this year with potential upside adjustment as the new U.S. administration takes over.
Manufacturing in Canada reached a survey high PMI reading of 57.9 in December, supported by a sharp increase in new orders and output. Order books were at their strongest level in three months and production expanded at the highest rate since August 2018. Demand from abroad, especially from the U.S. and Asia, reached mid-2018 highs. Vendor deliveries were impacted by port congestion and material shortages prompting firms to stockpile inputs in expectation of higher input costs and continued supplier delays. Rising input cost and operating expenses led to a sharp increase in selling prices. With vaccines rolling out, optimism jumped as manufacturers looked forward to stronger demand, output and business expansions in 2021.
U.S. manufacturers saw a marked improvement in operating conditions in December. The IHS Markit U.S. Manufacturing PMI rose to 57.1 from 56.7 in November. Production grew at the second highest rate since March 2015 as firms responded to meet demand. Order growth softened in December due to supplier delays and reduced capacity from new COVID-19 restrictions. Export orders rose despite national lockdowns in key export markets, said survey respondents. Input prices climbed at the fastest rate since April 2018 and were passed on as higher selling prices. Employment rolls expanded to meet production requirements. IHS Markit noted sustained strong demand for producers of machinery and equipment, suggesting increased investment spending.
Chris Williamson, chief business economist at IHS Markit, noted that supply delays are impacting the sector by limiting production capabilities and driving input prices higher. "Firms nevertheless remain highly positive about the outlook for the year ahead, anticipating that vaccine roll-outs will help drive a further recovery in 2021, although some of November's post-election exuberance has been tamed by the recent rise in virus case numbers, suggesting the near-term outlook will remain challenging."
By Sandy Williams, sandy@steelmarketupdate.com

Latest in Economy