Steel Products Prices North America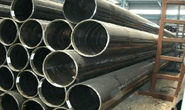 Nucor Raises Price of Tubular Products by Another $150
Written by Tim Triplett
January 7, 2021
---
Nucor Tubular Products notified customers on Wednesday, Jan. 20,  that it will increase pricing on all new orders for HSS, pipe, mechanical and piling products by another $150 per ton as a result of the strong demand and rising costs of raw materials and transportation.
All orders booked prior to this announcement will be price protected for shipments through Feb. 19, 2021. New orders, quotes and contracts not previously confirmed by Nucor will be subject to this increase, the company said.
Nucor Tubular Products has announced 10 increases starting in late August for a total of $775 per ton ($38.75/cwt). During the same period, the benchmark price of hot rolled steel—the substrate used to make many tubular products–has nearly doubled. Steel Market Update puts the current average price for hot rolled at around $1,130 per ton ($56.50/cwt).
(Editor's note: Information on the series of Nucor price increases in this article was updated Jan. 22.)
Latest in Steel Products Prices North America