Steel Markets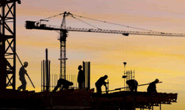 AGC: Challenges Ahead for Construction in 2021
Written by Sandy Williams
January 8, 2021
---
Officials at the Associated General Contractors of America provided a troubling outlook for the construction industry for the first half of 2021. Postponement and cancellation of construction jobs, difficulty finding skilled labor, rising material costs, supply shortages and continued costs and challenges associated with COVID-19 suggest that the industry will not return to pre-pandemic levels for six months or more.
Just over one-third of contractors in metro areas added construction jobs in the 12 months through November, said AGC in its latest analysis of government data. Construction employment fell in 57 percent or 203 of 358 metro areas between November 2019 and November 2020. Another 33 percent of respondents reported construction employment as stagnant and only 34 percent added jobs during the period.
"Canceled and postponed projects appear to be more common than new starts for far too many contractors," said Ken Simonson, the association's chief economist. "Our association's 2021 Construction Hiring and Business Outlook Survey found three times more contractors have experienced postponements and cancellations than new or expanded projects." The survey found that only 35 percent of firms plan to add staff this year, 24 percent will decrease headcounts and 42 percent are not anticipating any changes.
Metro areas are likely to lose even more construction jobs due to delays and postponements of nonresidential construction projects, said AGC.
"This is clearly going to be a difficult year for the construction industry," said Stephen E. Sandherr, the association's CEO. "Demand looks likely to continue shrinking, projects are getting delayed or canceled, productivity is declining, and few firms plan to expand their headcount."
The association presented a panel discussion of the AGC and SAGE 2021 Construction & Hiring Business Outlook on Thursday that highlighted the difficulties the industry faced in the past year and will continue to see in 2021.
Most respondents in the Outlook Survey believe the nonresidential construction market is set to shrink in 2021. "The percentage of respondents who expect the available dollar value of projects to shrink compared to the percentage who expect it to expand is negative for 13 of the 16 categories of projects included in the survey," said Simonson. Pessimism is highest (negative 64 percent) among those in retail construction followed by a host of construction markets with double-digit negative percentage expectations.
The three markets foreseeing positive net change were warehouses (+4 percent), other healthcare, which includes clinics, testing facilities and medical labs (+11 percent) and water and sewer (+1 percent).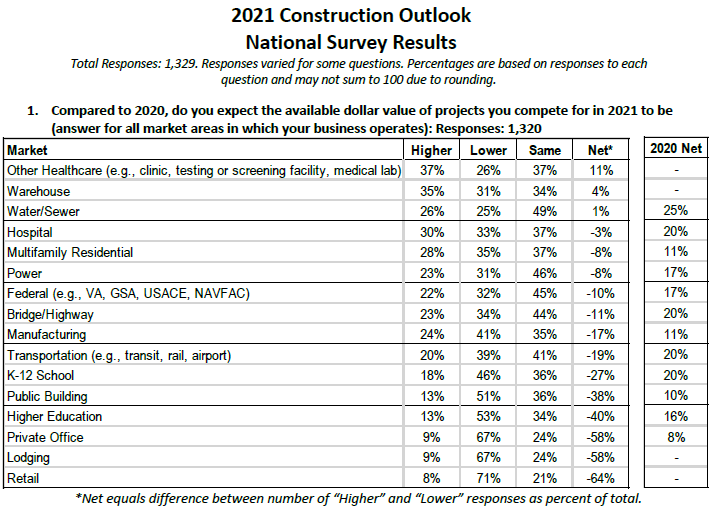 Government infrastructure funding was named as one of the most urgent requirements to boost the industry and the economy as well as backfilling state and local budgets that have been drained by pandemic costs.
Panelists noted that construction associated with the service industries and office buildings has continued to wane as buildings remain closed and workers at home. Warehouses are keeping contractors alive in some markets, said Rosana Privitera Biondo, president of Mark One Electric in Kansas City, Mo. Biondo noted difficulty finding workers with electrical backgrounds and having to reach out to distant geographic locations to find skilled individuals.
Bob Schaefer, president of Ranger Construction, a heavy construction firm in West Palm Beach, Fla., specializing in highway and pavement construction, said competition is fierce with bids coming in "shockingly low" from firms not usually associated with aggregate construction. Despite high levels of unemployment in the state, availability of employees skilled in heavy construction is scarce. Covid precautions have added to operational costs and, in some cases, reduced productivity.
During 2021, many firms turned to technology to keep employees connected and firms running, said Dustin Anderson, vice-president of Sage Construction. The number of companies with a formal IT plan jumped to 62 percent compared to 48 percent last year. Document management, project design and management software were among some of the technologies mentioned by panel members.
"Fifty-three percent of respondents use cloud-hosted technology for project management, up from 49 percent last year," said Anderson. Challenges of using new technology included finding the time for implementation and training as well as employee resistance. Anderson suggests mitigating concerns by implementing technology in stages.
"Technology can have a big impact on a construction business, helping to streamline projects, increase efficiency, improve bid-hit ratio, encourage collaboration, and keep teams in sync, which is more crucial now than ever," he added.
Michael  Kennedy, CEO of St. Louis-based KAI Enterprises, said business has stayed afloat with online design work and winning contracts through Zoom meetings. Kennedy noted that more customers are looking for firms with diversity strategies. Women-owned businesses, Minority Business Enterprises, etc., are sought after. "If you are a not a diverse company, it is time to find your strategy in the workplace," said Kennedy.
Training programs suffered after the 2008 crash and now employees are on the threshold of retirement with many getting out instead of risking Covid. The gap between apprenticeship and mid-career workers is too long, said Kennedy, highlighting the need to train more individuals for construction careers.
What Steps to Take in a Challenging Environment
Panelists advised construction firms to take time to do strategic planning.  Talk to your bank and bonding company often, said Biondo and Kennedy. Let them know you recognize the bumps in your business and that you have a plan to overcome them. Schaefer added that "cash is king," and to keep funds in the bank to get through difficult times. "Look at expenses, streamline, and bid responsibly." He added that doing a job poorly in a time of challenges can be fatal for a company. "Get back to basics, hire the best people you can afford, and get all the jobs you can."
Sandherr said AGC will be working with the new administration and Congress to encourage passage of an infrastructure bill. He noted that a Democrat Senate could create an opportunity for passage of the PRO Act bill, a number one priority of the AFL-CIO. The bill has some problems for contractors, he said. Although it makes it easier for unions to organize, it also allows for intermittent strikes that are generally prohibited as well as removing secondary boycott protections. A union with a dispute with one employer can shut a whole job down by putting pressure on other involved contractors to favorably influence that employer.
Simonson concluded the presentation by pointing out that geographically, construction was clearly strongest in the South compared to the country as a whole. The Northeast was the weakest and may have to do with declining population in the region. Population growth has been the strongest in the West and South, excluding the West Coast, which has seen some decline. Idaho, Nevada, Utah and Arizona currently have the fastest growing populations. Look to those four states, Florida, the Southeast Atlantic states and parts of Texas for the strongest construction growth in 2021, he said.

Latest in Steel Markets