Steel Mills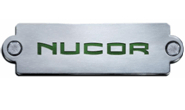 Nucor Expects Even Better First Quarter
Written by Sandy Williams
January 28, 2021
---
Nucor, the industry's largest steelmaker, is expecting a significant increase in earnings in the first quarter of 2021 following a strong fourth quarter with net earnings of $398.8 million. Fourth-quarter earnings outpaced the third quarter at $193.4 million and Q4 2019 at $107.8 million due primarily to higher pricing at Nucor's sheet and plate mills.
Net sales increased 7 percent in Q4 to $5.26 billion and 3 percent from a year ago. Shipments were up 3 percent from the third quarter to 6.49 million tons and were similar to volumes in Q4 2019. Average sales price rose 5 percent compared to the third quarter.
The company saw record backlogs for several product groups and strong order book activity that is continuing in the first quarter of 2021.
During the fourth quarter, Nucor started operations at its rebar micromill in Frostproof, Fla. The Brandenburg plate mill is moving ahead at full speed toward startup in Q4 of 2022. The expansion at the Gallatin sheet mill will add 1.4 million tons per year of capacity and is expected to begin operations in the fourth quarter of 2021. Full run rate should be possible by the second quarter of 2022, the company said.
Overall operating rates increased to 87 percent from 83 percent in the prior quarter. Strong results were recorded across the company's businesses including the bar and structural mills and the steel products segment. Raw materials benefited from higher selling prices for DRI from the Nucor direct reduced iron facilities.

Shipments to internal customers represented 19 percent of total steel mill shipments in the fourth quarter, down 21 percent from both Q3 2020 and Q4 2019. Downstream steel product shipments to outside customers dropped 9 percent from the third quarter of 2020 and 6 percent compared to the fourth quarter of 2019.
Average pricing for scrap and scrap substitutes rose 10 percent from the third quarter to $305 per gross ton. During the company earnings call, the consensus was that a scrap market correction is coming in February. Scrap pricing follows steel pricing and not the other way around, emphasized Craig Feldman, executive vice president raw materials. Scrap prices are expected to follow typical seasonal patterns with some moderation in the near term and then stabilize.
CEO Leon Topalian agrees that high-quality metallics and obsolete scrap will become tighter as EAF demand comes online. Nucor is well positioned with its two DRI facilities and DJJ Recycling to provide its own raw material supply. When asked about the potential of pig iron being introduced to the market, Topalian said a domestic supply is needed, but he is unsure that U.S. mills can produce it at a competitive price.
"As we enter 2021, we are encouraged by several positive factors impacting our markets. Nonresidential construction and automotive markets are strong, and we see generally improving conditions in heavy equipment, agriculture, renewable energy and on-highway truck and trailer," said Nucor in its earnings release.
Nucor's sheet, plate, bar and structural mills are expected to drive increased earnings in the first quarter of 2021. A softening is expected in downstream steel products due to seasonal patterns, along with some margin compression related to the delay between rising steel input costs and increases in selling prices. Higher raw materials selling prices will add significantly to the raw material segment's profitability in Q1.
Nucor is cautiously optimistic that an infrastructure spending bill will be passed by the current administration. Despite reports of a downturn coming in nonresidential construction, orders and optimism from Nucor customers continues to be strong.
Topalian noted that Nucor is well positioned to provide environmentally friendly steel with products made from recycled steel that are in turn 100 percent recyclable. Strong growth in renewable energy has partially offset weakness in the oil sector.
"Over the last 12 months, the Nucor team has demonstrated incredible resilience as we navigated macroeconomic headwinds and the challenging operating environment created by the COVID-19 pandemic," said Topalian. "At the onset of the pandemic, we capitalized on the flexibility of our business model and strong demand for our products to gain market share across nearly our entire portfolio."
He added, "Even as we worked hard to drive growth and value creation, the safety of our teammates and our commitment to customer relationships remained our top priorities. I am proud to report that 2020 was the safest year in Nucor's history."

Latest in Steel Mills