Steel Products Prices North America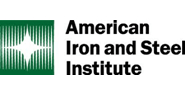 U.S. Steel Shipments Down Nearly 16% in 2020
Written by Sandy Williams
February 10, 2021
---
Last year was a difficult one for the domestic steel industry as the U.S. economy struggled to recover from the shock of the COVID-19 pandemic. That struggle is reflected in the latest shipment data, which shows that U.S. steel shipments plunged nearly 16% in 2020.
According to the American Iron and Steel Institute, U.S. mills shipped 81,000,300 net tons last year, a decline of 15.8% compared to shipments of 96,178,278 tons in 2019.
December steel shipments totaled 7,049,785 tons, up 4.4% from November, but down 12.1% from December 2019. Shipments of hot rolled sheet increased 3%, galvanized sheet was up 2%, but cold rolled sheet slipped 3% from November to December, AISI said.
Latest in Steel Products Prices North America