Steel Markets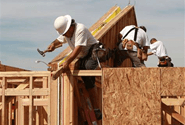 New Home Sales Robust in January Despite Soaring Prices
Written by Sandy Williams
February 24, 2021
---
Sales of newly constructed single-family homes leapt 4.3% in January to a seasonally adjusted annual rate of 923,000, said the U.S. Census Bureau and HUD. Sales compared to a year ago soared 19.3%.
"Historically low mortgage rates and solid demand spurred an increase in new home sales in January, with the sales pace more than 19% higher than a year ago," said Chuck Fowke, chairman of the National Association of Home Builders. "However, rising affordability issues are looming this year, particularly increasing building material costs, including lumber, which is adding $24,000 to the price of a typical newly built home. Builders also cite rising regulatory issues as a potential concern."
Home prices averaged $408,800 with a median sales price of $346,400. Estimated inventory at the end of January was 307,000 units, a supply of four months at the current sales rate.
"With existing home inventory at all-time lows, the demand for new construction remains strong," said NAHB Chief Economist Robert Dietz, "though rising building and development costs, combined with recent increases in mortgage interest rates, threaten to exacerbate existing affordability conditions. Builders are exercising discipline to ensure home prices do not outpace buyer budgets."
New home sales rose 12.6% in the Midwest, 3% in the South and 6.8% in the West, but declined 13.9% in the Northeast.
Latest in Steel Markets