Economy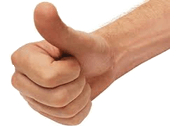 ISM: Manufacturing Grows Despite Supply Challenges
Written by Sandy Williams
March 2, 2021
---
The latest manufacturing report from the Institute for Supply Management indicates a ninth consecutive month of growth for the nation's economy. The ISM manufacturing PMI rose 2.1% to 60.8 in February with new orders and production gaining 3.7% and 2.5%, respectively.
"The manufacturing economy continued its recovery in February. Survey committee members reported that their companies and suppliers continue to operate in reconfigured factories," said by Timothy R. Fiore, chairman of the ISM Manufacturing Business Survey Committee. "Issues with absenteeism, short-term shutdowns to sanitize facilities, and difficulties in hiring workers remain challenges and continue to cause strains that limit manufacturing-growth potential."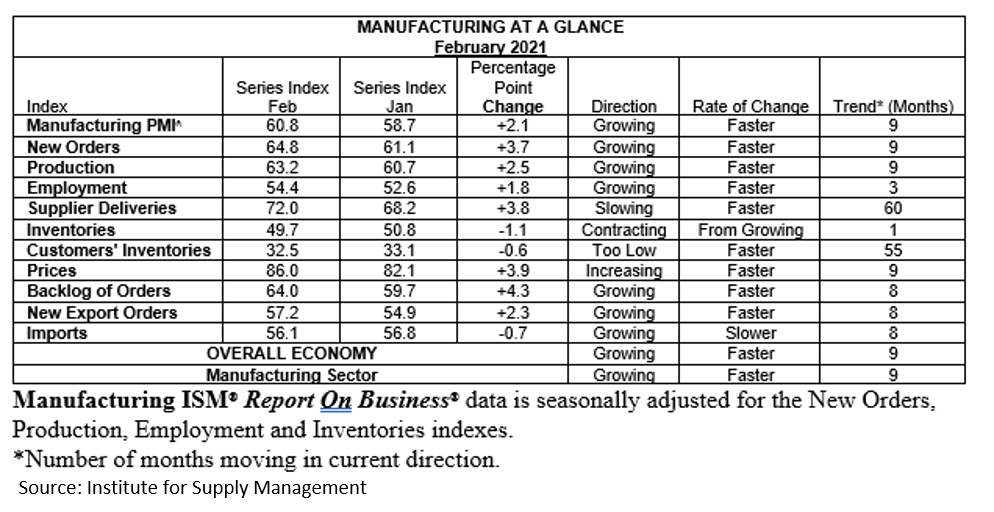 Supplier deliveries deteriorated further in February as the index gained another 3.8 points to register 72%. An index reading above 50 indicates slower deliveries.
"Suppliers continue to struggle to deliver, with deliveries slowing at a faster rate compared to the previous month. Transportation challenges and challenges in supplier-labor markets are still constraining production growth—and to a greater extent compared to January," said Fiore. "The Supplier Deliveries Index also reflects difficulties suppliers continue to experience due to COVID-19 impacts combined with strong growth in economic activity. Since stable manufacturing began in August 2020, the index has gone up every month, indicating that suppliers are experiencing greater difficulties in meeting factory needs."
Fiore added, "Supplier labor and transportation constraints are not expected to diminish in the near-to-moderate term due to COVID-19 impacts."
Order backlogs lengthened again in February, outpacing production for the eighth straight month. The backlog index gained 4.3% to register 64% last month and was the second highest reading since January 1993.
The prices index jumped 3.9 points to 86% for its highest reading since May 2008. "Aluminum, copper, chemicals, all varieties of steel, soy, petroleum-based products including plastics, transportation costs, electrical and electronic components, corrugate, and wood and lumber products all continued to record price increases," said Fiore.
Despite continued supply challenges, panel sentiment increased to five positive comments for every cautious one, noted ISM.
Sampling of Comments from the February Report
"We have seen our new-order log increase by 40% over the last two months. We are overloaded with orders and do not have the personnel to get product out the door on schedule." (Primary Metals)
"Steel prices have increased significantly in recent months, driving costs up from our suppliers and on proposals for new work that we are bidding. In addition, the tariffs and anti-dumping fees/penalties incurred by international mills/suppliers are being passed on to us." (Transportation Equipment)
"Overall capacities are full across our industry. Logistics times are at record times. Continuing to fight through shipping and increased lead times on both raw materials and finished goods due to the pandemic." (Fabricated Metal Products)
"Prices are going up, and lead times are growing longer by the day. While business and backlogs remain strong, the supply chain is going to be stretched very [thin] to keep up." (Machinery)
"Things are now out of control. Everything is a mess, and we are seeing wide-scale shortages." (Electrical Equipment, Appliances & Components)
"Prices are rising so rapidly that many are wondering if [the situation] is sustainable. Shortages have the industry concerned for supply going forward, at least deep into the second quarter." (Wood Products)
"The coronavirus [COVID-19] pandemic is affecting us in terms of getting material to build from local and our overseas third- and fourth-tier suppliers. Suppliers are complaining of [a lack of] available resources [people] for manufacturing, creating major delivery issues." (Computer & Electronic Products)

Latest in Economy