Steel Markets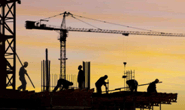 Strong Month for Dodge Momentum Index
Written by Sandy Williams
March 5, 2021
---
The Dodge Momentum Index jumped 7.1% in February to register 149.0 for the highest level in nearly three years. The index is a monthly measure of the first report of nonresidential projects in planning, shown to lead construction spending by a full year.
A surge of large projects entered the planning phase last month, said Dodge Data & Analytics. "It remains to be seen if this level of activity, especially in the institutional sector, is sustainable given the tenuous economic recovery and rising material prices. Institutional planning projects in February were concentrated in large hospitals and labs, while commercial planning projects primarily included data centers, warehouses and office projects."
The overall Momentum Index was up 9.2% from February 2020; the commercial component was 15.2% higher, while the institutional component was down 3.3%
Fourteen projects valued at $100 million or more entered the planning phase in February.
Latest in Steel Markets