Scrap Prices North America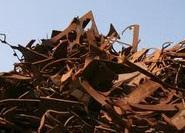 Price for Obsolete Scrap Expected to Dip in April
Written by Tim Triplett
March 7, 2021
---
Obsolete scrap prices are widely expected to decline in April, while prime scrap prices move sideways, predict Steel Market Update sources. Ferrous scrap prices saw a big jump in March, adding to the upward momentum on finished steel prices, but the April effect is shaping up to be more moderate.
"Growing obsolete scrap availability caused by warmer weather and lower export prices will push domestic obsolete scrap prices down $20-30/GT in April," forecast one dealer in the Northeast. "Prime scrap prices should remain the same, as most buyers believe the same amount of prime will be available regardless of price. A period of lower prices should be relatively short-lived as both sides of the fence eye the growing macro demand for scrap into the summer."
"Supply availability has improved month over month for obsolete grades and should pressure prices lower. The semiconductor shortage is lowering #1 busheling availability, so any movement on that pricing is likely to be minimal," agreed CRU Senior Analyst Ryan McKinley.
The early "talk" reflects a perception that there's a surplus of obsolete scrap on the market as export price levels have dropped about $30-35/GT since early-March, on top of some planned mill outages, said another scrap exec.
"But I am not convinced the market is so weak," he added. Despite high prices and improving weather, inflows should be improving more than they are. Busheling is going to be hard to come by as demand is strong and vehicle stamping plants are disrupted [by a microchip shortage], leaving mill buyers with a need to buy more shredded. Asian steel prices remain strong and appear to be improving. In addition, when Turkish mill outages scheduled for April wrap up, Turkish bar producers should be able to raise prices and sell more finished steel, thereby increasing scrap demand. "Of course, the volatility of the Turkish lira has been disruptive this week but should stabilize in the near term," he added.  
"Bottom line, less scrap buying in Mexico and Turkey means there is more scrap available in the world, and consequently we are seeing lower prices. But I am not sure they will last. Any mill buyer who bets that spring flows will automatically come flooding out after they try to push prices lower may prove too optimistic." 
Although scrap prices are higher than they have been in over a decade, they are still being outpaced by steel prices, McKinley noted, creating a large margin for the mills. The chart below from CRU shows the rising spread between scrap and hot rolled coil prices over the past year.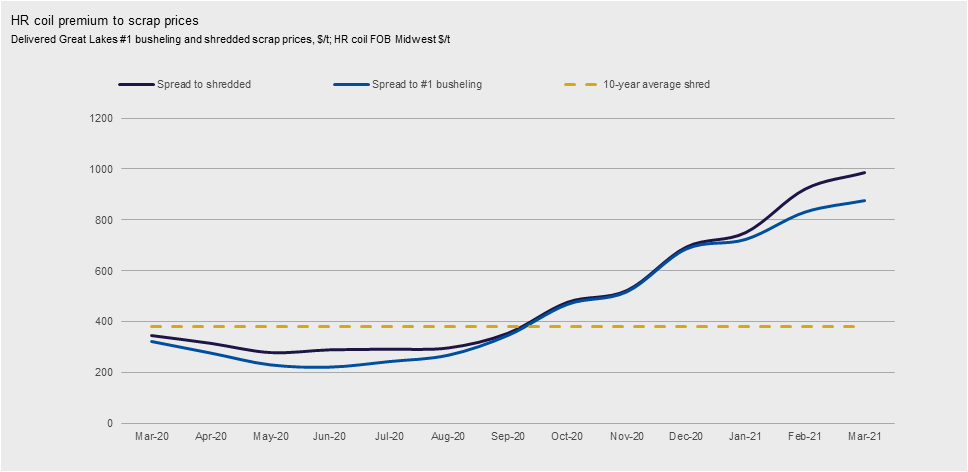 Latest in Scrap Prices North America