International Steel Prices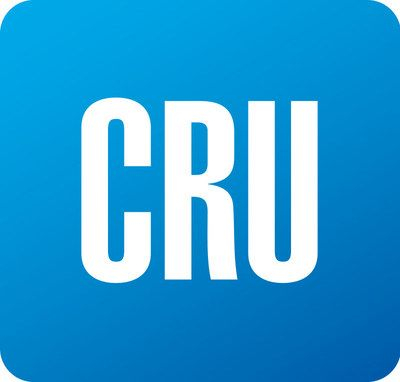 CRU: Sheet Market Activity Slows in Asia and Europe
Written by George Pearson
March 16, 2021
---
By CRU Analyst George Pearson from CRU's Steel Sheet Products Monitor
Sheet prices fell significantly in China and the Vietnamese import market in the last week and there were also smaller decreases in India. U.S. and European sheet prices continued to rise overall, although European trading activity was slower, and increases were smaller than we have become used to. Domestic and import availability continues to improve globally, but this is not expected to materially change market conditions in the next few weeks. Mills remain largely unmoved on prices after months of strong orderbooks, but the difference between trader and mill prices in regions such as Vietnam and India suggests a cooling in spot demand.
USA
Prices continued to increase in the U.S. sheet market as HR coil gained $34 /s.ton w/w. Many contacts reported they were offered more tonnage than in previous months by select mills, with some companies deciding not to accept the extra tons as their inventories were already balanced with their current demands. Mill lead times were wide ranging, with some HR coil available within six weeks, while other mills had lead times of 10 weeks. Service centers reported more instances of high prices causing a slowdown in demand, as projects were postponed or steel alternatives were chosen. Supportive factors for sheet prices are expectations of strong auto production in 2021 H2 and upcoming planned outages. However, the effects of higher domestic production rates and import opportunities are expected to outweigh maintenance and auto as the amount of inventory on hand and on order continues to increase for most steel consumers.
Import offers were more plentiful on the U.S. West Coast this week, with buyers reporting that mills were not only willing to negotiate on pricing, but that tonnages offered were higher than in recent months. Buyers are still awaiting the opening of mill order books on the West Coast, while domestic mills in other regions of the U.S. are still not offering much tonnage. Despite the high steel prices, we have not seen the same level of demand destruction that we have seen elsewhere.
Europe
Most European sheet prices continued to increase this week but at a slower rate. German HDG coil fell by €12 /t to €1,298 /t w/w, narrowing the differential seen with Italian HDG coil, which is assessed at €1,292 in our latest assessment. This w/w fall is likely to be a small correction after previously strong increases rather than a new trend.
Market feedback reports that real consumption of steel is strong in the Italian market, supporting the price increases seen in southern Europe. Material for import from Asia has been offered to Italy for September shipment, but in limited quantities. Meanwhile, India, which has exhausted its HR coil quota for Europe, was heard to have sold large volumes of HR coil to Turkey instead at around $100 /t below Turkish domestic prices. This material has the potential to be rerolled into CR coil or HDG coil and sold into Europe. Current import volumes into Europe are unlikely to be substantial enough to change the direction of price levels today when balanced against demand. Lead times in southern Europe are around a month shorter than in the north, where material can be delivered for October-November.
China
Chinese domestic sheet prices fell w/w, with HR coil falling by RMB 210 ($32) /t to RMB 5,360 /t. Slower underlying sheet demand has reduced transactions. Auto production was down by 4% y/y according to NBS after 13 months of continuous growth and home appliance output growth is also slowing, though exports are still much higher. Meanwhile, sheet inventories continue to grow, rising by 3% w/w after the 2% w/w increase one week before, indicating slower demand from both end-users and traders. Although sheet product demand is less exposed to the weather-related seasonal downturn, we are still expecting prices to trend downwards in the coming weeks due to a more bearish demand outlook and strict production restrictions on manufacturers to ensure air quality for the 100th anniversary of the CCP. 
Asia
Sheet product import prices in Asia fell last week. CRU assessed HR coil at $960 /t, down by $30 /t w/w. CR coil fell by $60 /t to $1,100 /t, while HDG decreased by $40 /t to $1,140/t.
For HR coil SAE1006 grade, offers from Indian mills were lower w/w at $1,000–1,010 /t CFR Vietnam for August shipment, but buying interest was extremely limited. According to a trader, position cargoes are being resold to end-users at $940–950 /t CFR Vietnam for July cargoes, therefore buyers will not be willing to bid higher than that.
Despite slower sales, domestic mills in Vietnam are trying to raise prices of downstream products, such as HDG coils and steel pipe to cover their raw material costs. The country is currently battling with a new COVID-19 outbreak and the outlook for steel demand in the coming months is bearish.   
India
Indian sheet prices fell by INR600–1500 ($820) /t w/w in the spot market as traders offered discounts to mill prices to attract buying. The price correction was more pronounced in the North Indian market, as manufacturers in the region resisted purchases at current prices ahead of the monsoon season. Although spot prices have reduced in the last two weeks, steelmakers continue to keep their list prices unchanged, thereby widening the gap between mill and trade prices. CRU understands that major steelmakers are currently negotiating quarterly contract prices with automotive buyers, who are unwilling to agree to a price hike comparable to the change in spot prices in Q2, citing acute market conditions due to COVID-19-induced lockdowns.
Meanwhile, steelmakers are increasing their export allocations to offset expected seasonal weakness in domestic demand during Q3. We hear that current domestic prices are still at a discount of 8-10% to the latest import offers for HR coil, which gives local suppliers enough headroom to keep offer prices at the same level. Nevertheless, a possible reduction in import offer prices to India in the coming months is very likely to trigger an equivalent local price reduction as supplies stabilize, stoking fear of a rise in mill inventory as import bookings rise.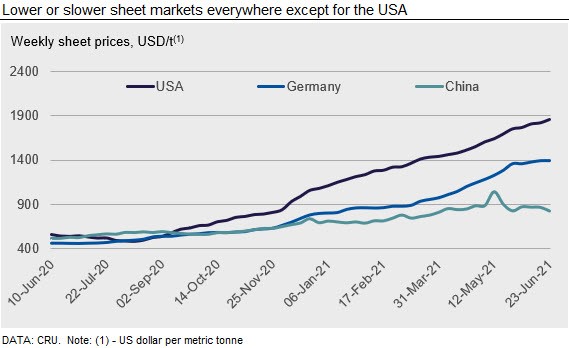 Request more information about this topic.
Learn more about CRU's services at www.crugroup.com
Latest in International Steel Prices