Steel Markets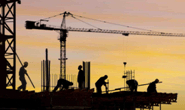 Dodge Momentum Index Soars to 2018 Levels
Written by Sandy Williams
April 8, 2021
---
The Dodge Momentum Index reached its highest reading since summer 2018, gaining 1.7% for a score of 151.4. The March Index was boosted by an increase of institutional construction projects entering the planning stage. Compared to March 2020, the index jumped 11%.
The range of new projects broadened in the institutional sector with healthcare and lab projects continuing to dominate.
"Institutional building construction rose 14.0% from February, while year-over-year comparisons showed a 10% increase for the sector," said Dodge Data & Analytics. "Commercial construction, however, dipped 3.9% for the month due to a slight pullback in warehouse activity that other commercial projects could not make up for, though the sector showed a 12% increase from March 2020 in year-over-year comparisons."
Sixteen projects valued at $100 million or more entered the planning stage in March.
"Based on this data, March may signify that the public side of building construction is beginning to stabilize following the COVID-19-led pressure on state and local budgets and suggests a pickup in construction starts may occur as 2021 progresses," commented Dodge.
The Momentum Index, issued by Dodge Data & Analytics, is a monthly measure of the first report for nonresidential building projects in planning, which have been shown to lead construction spending for nonresidential buildings by a full year.
Below is a graph showing the history of the Dodge Momentum Index. You will need to view the graph on our website to use its interactive features; you can do so by clicking here. If you need assistance logging in to or navigating the website, please contact us at info@SteelMarketUpdate.com.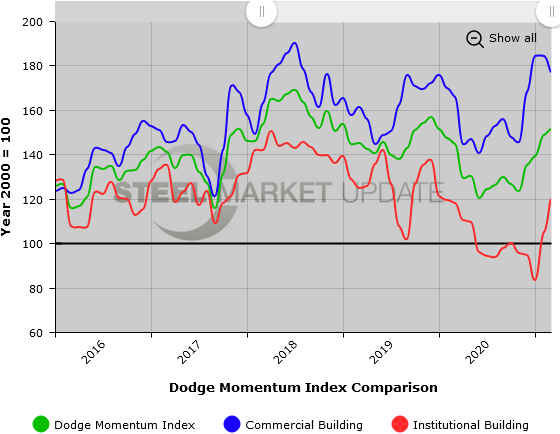 Latest in Steel Markets