Steel Mills

Ray Napolitan to Retire from Nucor
Written by Sandy Williams
April 14, 2021
---
Ray Napolitan, Jr., Executive Vice President of Engineered Bar Products and Digital at Nucor, plans to retire on June 5, 2021, after 25 years of service with the company.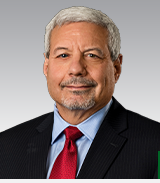 Napolitan joined Nucor in 1996 as Engineering Manager of Nucor Building Systems-Indiana. He became Operations Manager of Nucor Building Systems-Texas in 1999 and was promoted to General Manager later that year. Napolitan was appointed President of American Buildings Company and Vice President of Nucor in 2007. He then served as President of Nucor's Vulcraft/Verco Group from 2010 until his promotion to Executive Vice President in 2013.
"For 25 years, Ray's dedication and exceptional leadership have contributed greatly to the growth and profitability of Nucor," said Leon Topalian, President and CEO of Nucor. "From his leadership at divisions, to his service as Executive Vice President of Fabricated Construction Products and Engineered Bar Products, to his leadership of our digital initiatives, Ray has been an invaluable member of the Nucor team. I am especially grateful to Ray for his unwavering commitment to safety. On behalf of all Nucor teammates, I want to extend our deep appreciation to Ray for his leadership and the countless contributions he has made to Nucor over the years. We wish Ray and his family every happiness as they begin this next chapter."
Napolitan's successor will be announced at a later date.
Latest in Steel Mills