Steel Markets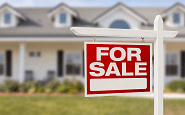 Existing-Home Buyers Face High Prices and Low Inventory
Written by Sandy Williams
April 22, 2021
---
Buyers searching for that perfect home this spring will have plenty of competition despite soaring prices. Sales in March climbed 12.3% from a year ago to a seasonally adjusted annual rate of 6.01 million, says the National Association of Realtors. Inventory, however, is at near-historic lows causing sales to dip 3.7%  from February.
"Consumers are facing much higher home prices, rising mortgage rates, and falling affordability, however, buyers are still actively in the market," said Lawrence Yun, NAR's chief economist.
"The sales for March would have been measurably higher had there been more inventory," he added. "Days-on-market are swift, multiple offers are prevalent, and buyer confidence is rising."
Median price for an existing home rose 17.2% year-over-year to $329,000 with prices gaining momentum in all regions.
Inventory at the end of March was 1.07 million units, a 3.9% increase from February but down 28.2% from a year ago. At the current sales pace, unsold inventory is at a 2.1-month supply, up just slightly from the near-historic low of 2.0 the previous month.
Single-family home sales dropped 4.3% to a SAAR of 5.3 million in March and were up 10.4% from March 2020. Median home price for an existing single-family home rose 18.4% from a year ago to $334,500.
Condominium and co-op sales inched up 1.4% to an annual rate of 5.3 million from February to March and were 29.1% higher than a year ago. Median existing condo price jumped 9.6% year-over-year to $289,000.
Sales slipped from February to March in all four U.S. regions while prices rose by double digits from a year ago.

Properties were snapped up in record times in March, with 83% sold in less than a month, said NAR. Properties were typically on the market for just 18 days, a record low.
"Without an increase in supply, the society wealth division will widen with homeowners enjoying sizable equity gains while renters will struggle to become homeowners," said Yun.

Latest in Steel Markets