Steel Mills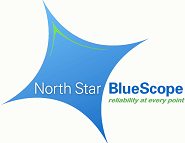 BlueScope Raises Guidance
Written by Sandy Williams
April 27, 2021
---
Australian steel producer BlueScope has raised its earnings guidance for 2H FY2021 to an earnings range between AUD $1 billion and $1.8 billion from the previous range of $750 million to $830 million. The boost in earnings is due in large part to the performance of North Star BlueScope, the company's U.S. division in Ohio.
HRC prices have skyrocketed since the original outlook was published in February and are now more than $250 per metric ton higher, resulting in stronger spreads benefiting North Star's specific sales mix. BlueScope added that the expansion at North Star remains on track for commissioning during the second half of FY 2022.
BlueScope is also seeing stronger shipment volumes in its Australian Steel Products division, particularly in the building and construction sector. The division is benefiting from improved domestic and export steel spreads.
Building Products will also show improved earnings results from the previous half year due to expanding margins in the North American coated business driven by rapidly rising steel prices. Favorable margins will also result in an improved performance by the ASEAN division, the company said.
Latest in Steel Mills