Steel Markets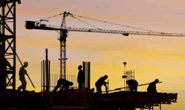 Construction Employment Declines in Nonresidential, But Housing Sees Small Gain
Written by Sandy Williams
June 4, 2021
---
Construction employment fell for the third time in the past four months, according to an analysis of government data by the Associated General Contractors of America.
Construction employment fell by 20,000 jobs from the downwardly revised April data to a seasonally adjusted employment total of 7,423,000. The total in May remained 225,000 less than in February 2020, said AGC, the high point before the pandemic drove construction employment down by more than a million jobs.
Nonresidential construction has struggled with supply chain delays and worker shortages. The nonresidential construction sector shed 21,800 jobs in May and employed 260,000 fewer workers than in February 2020, said AGC.
"Steadily worsening production and delivery delays have exceeded even the record cost increases for numerous materials as the biggest headache for many nonresidential contractors," said Ken Simonson, AGC's chief economist. "If they can't get the materials, they can't put employees to work."
Residential construction firms enjoyed another month of robust housing demand. The sector gained 1,900 employees in May and employed 35,000 more workers than in the pre-pandemic peak month of February 2020.
"Contractors are being told they must wait nearly a year to receive shipments of steel and 4-6 months for roofing materials," Simonson noted. "These delays make it impossible to start some projects and to complete others, leaving contractors unable to keep workers employed. In addition, soaring prices for steel, lumber and other materials are deterring owners from committing to going ahead with projects."

Latest in Steel Markets