Economy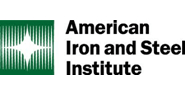 AISI: Steel Shipments Rise 7.8% through May
Written by Tim Triplett
July 16, 2021
---
U.S. steel mills shipped 7,987,038 net tons in May, a 46.2% increase compared with the 5,461,851 net tons shipped in May 2020 when the economy was struggling with the worst of the pandemic. May shipments also were up 1.8% from the 7,845,008 net tons shipped in the previous month, reported the American Iron and Steel Institute.
Steel shipments in the first five months of 2021 hit 37,938,360 net tons, a 7.8% increase over the same period in 2020.
Steel products shipments seeing the most change year to date include cold rolled sheet, up 3%, and hot rolled sheet and hot-dipped galvanized sheet, both up 1%, AISI said.
Latest in Economy